Thanks, I'll add it to the list.
MISSING: SWJA - FAZENDA AERO AMIL
27 01 03S/048 51 12W
City : Brusque
State: Santa Catarina
Country: Brazil
Ofiicial Website http://aeroamil.com.br/
Brazilan offical chart web page https://aisweb.decea.mil.br/?i=aerodromos&codigo=SWJA
Bing photo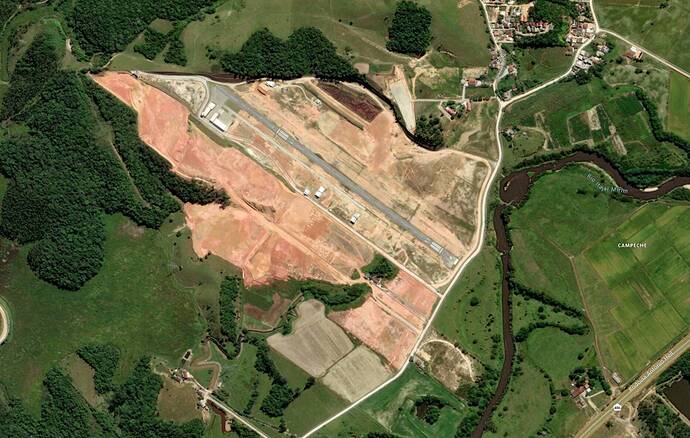 Scratched off a number of missing airports from the list with the release of WU6.
LSMI Interlaken seems to have gone missing with today's update. I have not installed the DACH World Update from the Marketplace yet, but it's not supposed to be one of the improved airports. Could anyone else confirm?
Judging from its appearance it is still usable, but you cannot select it from the World Map or interact with ATC and ground services anymore.
Looks like it's tagged as closed in the sim. Maybe that's why it is no longer selectable.
Ah thanks, I had no idea it was closed in real life. Shame, I really liked it!
It was closed more than 10 years ago, kind of baffling that it still showed up in various iterartions of the ESP sim.
It is only used as an emergency landing facility, has no ground handling.
OK93 Airman Acres 36.33°N / 95.88°W
FGAB Annobon Airport (San Antonio de Pale) is still missing plus the whole island lack Bing Maps satellite coverage. The larger island of Sao Tomé just to the North is acceptablly recreated, small gate and "no pushback tug available" issues aside.
FPPR Principe Airport is also missing.
This region looks amazing on Google maps, and well placed for short hops to the mainland Douala, Malabo and Libreville.
Will be nice if it can make it into the sim. Great fun to hop the islands of humid tropical Africa. Can just imagine how it would feel stepping off a plane into that warm humid air with a whiff of JetA1 exhaust.
Thanks, I'll add to the list.
EDIT: updated coordinates to 36.333997 -95.892065
Updated the list with 8 additional missing airports from recent posters.
LGMS Messolonghi airfield. I think is missed since last WU.
This is a real problem cause is part of Balkan Bush trip. So without this airfield you can't achieve the leg to this field.
I added it to the list. Did you submit a Zendesk ticket?
Interlaken is indeed missing. Used to fly out of there all the time before WU6. Shame that it is gone now…
It is not missing. It was closed in the early 2000's. It should never have been there in the first place.
So they indeed fixed it by removing it.
I think Asobo is starting to purge all the closed airports they initially had at launch. WU6 has fewer airports compared to the previous build.
Messolonghi Airport is not working for me as well. Trying to complete bush trip for achievement and can't. Hope they fix soon