MSFS run beautiful on this PC. C drive 75MB Windows 3.1 No Graphics card … those were the days…
lol…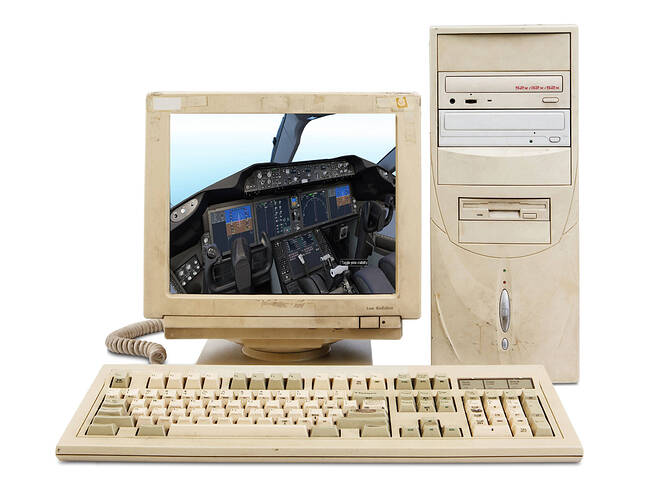 Hi there,
I moved your post into General Discussion. While it has a screenshot in it, I don't think that's the focus of the picture.
I don't see anything there that should hold you back from having a great experience.
You lucky XXXXXX, high FPS, no stuttering and all settings on Ultra.
If I could afford a PC like yours, I'd be over the moon.
Happy flying.
The "beige" years. I remember them well, in all of their mismatched bezel-led glory!
I had exactly the same case.
MSFS was installed
It had the fastest processor
Plenty of RAM
A pretty good GPU
A 17" Ilyama monitor
.
.
NO STUTTERING
I had to add a card to get to 640k of RAM. My god… what are we going to do with all that memory?
Jim-Sim
Remember "Tiny" computers? My first PC was a Tiny machine and all the peripherals to go with it, it was a christmas gift… and most importantly it came with Flight Sim 98! This must have been 1998 or 1999 when I was 10 or 11 years old, AGP had not long been launched and was a state-of-the-art thing!
Before I got it, I had been using my dad's work computer occasionally whenever he brought it home from work the odd weekend to play Flight Sim. I remember getting up at 7am some mornings to fly the Learjet 45!
What really stands out, was that this Tiny computer came with a 6GB hard-drive, which had a big "OOFT!" reaction back then
The actual model we had…

This also ran MSFS perfectly smooth with no jittering. And it did it while running Macintosh (Sys 7) emulation at full speed and the Amiga OS all at the same time.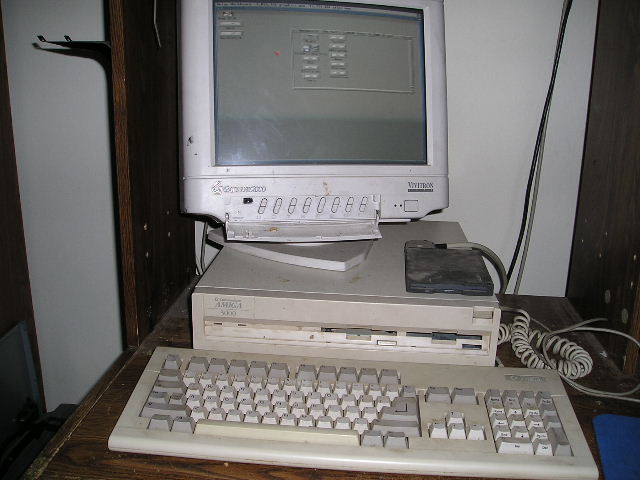 Is this a live feed of it running at 1 frame per year?
Hey guys, those 1990's supercomputers are just fine for running MSFS 2020 at high graphical settings smoothly, that's not a challenge! This is a challenge! Look at my sweet gaming rig playing MSFS2020 at one frame per decade! Buttery smooth…
A Computer similar to this one put Men on the Moon and It looks like my PC after the Grand Kids have wiped their Sticky Fingers over it !
I remember my first computer. A 486DX2 66mhz with 4mb ram.
Those big fat CRT monitors. A classic.
My first flight sim was NightFlite2 on the ZX Spectrum in the late 80s. Its on YouTube. Terrible now but it had flaps and ILS so some things never change!
IBM AT Model 339 80286, 8Mhz Processor
101 Key Keyboard (on of the firsts and a classic)
640K RAM (using an add-on card)
287 Math Co-Processor Chip
30 Megabyte Hard Drive
5-1/4" Floppy Drive
EGA 640x350
14" Monitor
PC DOS 3.0
AutoCAD 2.17 (came on 13 Floppy Disks)
Lotus 123
Word Perfect
Total $15,000 in 1984
Started my career on that system.
Jim-Sim
I remember our trusty 486 running FS 5.1 at maybe 8-10fps, going to my home town and it not looking anything like reality, you really had to use your imagination when it came to what you were seeing:
Chicago then:

Chicago now:

1997…my first gateway into this awesome hobby.
Back when PC Gamer magazine gave you free demo CD's sealed inside.
One of the best gifts my father ever gave to me.

This brings back some old memories
Wow theme hospital haha. Another great sim