Are you using Developer Mode or made changes in it?
I can reproduce the issue with or without Developer Mode. I have not made any changes in Developer Mode that affect the sim when Developer Mode is disabled. Not even the FPS counter.
Brief description of the issue:
Custom waypoints are no longer correctly loaded from .pln files. They all end up at the north pole, I think. This bug affects both flight plans created using the World Map, as well as flight plans created using 3rd-party tools like Little Navmap. This is not only a cosmetical issue in the World Map window, the G1000NXi also wants to go to the north pole when you start a flight with custom waypoints.
Good luck with the next community flight. SCNR.
Provide Screenshot(s)/video(s) of the issue encountered: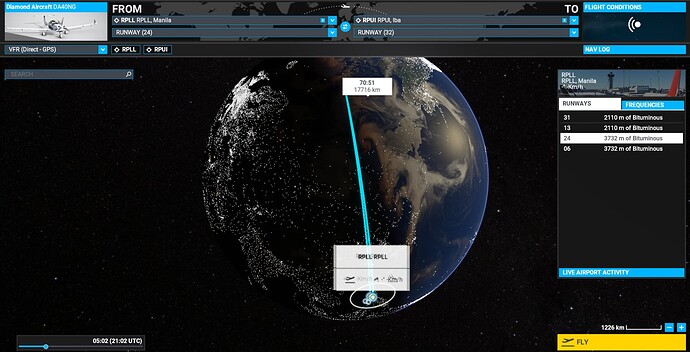 Detailed steps to reproduce the issue encountered:
go to the World Map
plan a flight between any two airports or airfields
add a custom waypoint
save the route as a .pln file (More / Save to this PC / select ".pln file" / enter name and confirm)
load the .pln file you just saved (More / Load from this PC / select the .pln file and confirm)
the route will go from the departure aerodrome to the north pole and back to the destination aerodrome
EDIT #3: this is related to whether Navigraph is installed or not. Navigraph confirmed that they can reproduce the issue, their assessment is that it's a sim bug that can only be fixed by Asobo.
---
For anyone who wants to contribute on this issue, Click on the button below to use this template:
Do you have the same issue if you follow the OP's steps to reproduce it?
Provide extra information to complete the original description of the issue:
If relevant, provide additional screenshots/video: