NZ & AUS MFS2020 Discord - NZNR & Napier Scenery Pack 1.6
Part of the New Zealand and Australian Scenery Series - Launch of the free download for Napier, New Zealand for Microsoft Flight Simulator 2020
Credit:
Pack by: Skuxxanator69, DeansPlay, Reaver, HybridNz
Trailer:
Cameras, editing by: HybridNz
All logos, devices, entities and trademarks are copyright to their respective owners.
Custom Airport NZNR:
1300 hand placed objects
Runways:
• 16/34 PAPI4 left side Only @ 3° pitch
• SSALR ALS?? + REIL
• RW7/25
• RW16L/34R grass strip
Gates:
• 7x gates at terminal to charts + Google Maps
• Numbered gates
• Gates - max wingspan set to charts
• Helipad at Air Ambulance apron
• Added 2x North GA parking on grass south of tower
• Added 4x GA Parking on the south end of Airport and 1 fuel parking
Scenery:
• Custom scenery / 3d models and airport signs
• Detailed hand placed scenery
• Added taxiways/hold position signs - To current charts
• Construction zone for new airport terminal
• Full carpark details with lines and pedestrian crossings
• Removed and replaced default buildings
• Replaced trees around airport with shrubs
PORT
• Fixed bluff hill terraforming + rock face scenery
• Added scenery
OTHER
• Added Napier wharf on parade
• Flattened terraforming on parade
• Added scenery objects in marina
• Replaced forests to the North with pine trees.
Please inform me if you encounter any issues. Discord: Skuxxanator69#3228
NZ/AUS MFS2020 GROUP (NZA)
Copy to your FS2020 community folder to install and fly.
All welcome to join the Discord, We are a regional community that enjoy flights, modding and growing the New Zealand and Australian Flight Sim 2020 Community. All welcome.
Trailer here: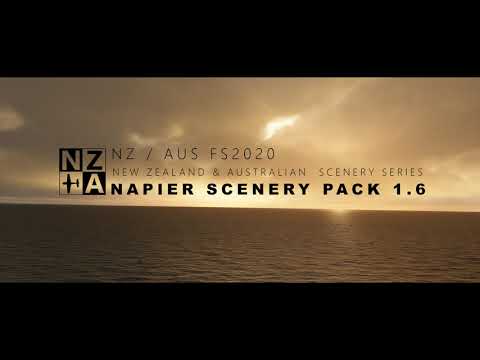 Download here: