The Official MSFS Discord and ATConnect present…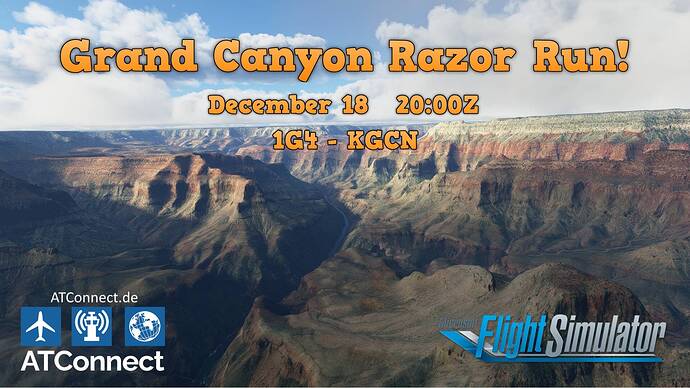 2020-12-18T20:00:00Z
This race will take place through a large section of the Grand Canyon, refereed and timed by ATConnect Air Traffic Controllers.
Contestants will start at 1G4, race through an ATC-designated section of the Grand Canyon, and end at KGCN. No registration is necessary, and all skill levels, including new beginners and experts, are encouraged to join the race!
Contestants can choose one of three aircraft: TBM-930, Extra 330LT, or Pitts Special S-2S.
Contestants will contact 1G4 GND to indicate they're interested in racing. After ATC confirm required software is properly set up (see "How do I join?" for requirements), taxi directions will be provided.
Contestants will complete the race asynchronously, with ATC starting and stopping an official race timer for each aircraft separately. For more detail on the race path, see this Google Maps Screenshot or this ATC Radar Scope or this MSFS Demo Flight Plan. ATC will provide start and end vectors; these are simply for reference.
Leaderboards, separated by aircraft type, will be updated live as the race progresses and moderated by ATConnect and FlightEvents!
Contestants who alter their aircraft (other than skins/decals), slew in-race, cut corners, or otherwise try to cheat will be disqualified from official leaderboards. (Remember, ATC can see your aircraft speed, direction, and altitude at all times )
Spectators who wish to watch the race in-game without (or after) racing, are allowed to do so by receiving clearance for their desired flight path from KZLA CTR.
---
How do I join…
…the competition on the leaderboards and get timed by ATC?
Download and set up Flight Events.
MSFS Client is mandatory; Toolbar is optional

Join the Official MSFS Discord Server

Connect to #FE Preparation in MSFS Discord

Disable Co-Pilot & AI ATC: Settings → Assistance → User Experience → ATC Voices

Spawn on the ramp at 1G4–not on the runway–with the following multiplayer settings:
US-East Server; Live Players; No Traffic
…to just fly through the canyon for recreation without getting timed or having to contact ATC?
Use this MSFS Demo Flight Plan or Google Maps Screenshot to follow the same route as the racers!
Use these multiplayer settings: US-East Server; All Players; No Traffic
---
How do I learn to talk with ATC?
Practice makes perfect. That said, this event requires little to no ATC phraseology knowledge! We–ATConnect–host these events to provide a fun experience for everyone, regardless of ATC experience. That said, if you want to come extra prepared, here are some resources:
Search "ATC phraseology basics"
---
Questions?
Ask in

#flight-events-bot

(MSFS Discord)
During events, we also monitor

#FE

Preparation
See you in the skies!
~Rob Geebivi, Co-Founder and Event Coordinator, ATConnect
~MSFS Community Team
~MSFS Discord Team
Event Radio Frequencies
Controllers announce the next frequency with every handoff. The below list is simply for reference.
Disclaimer: These frequencies are NOT for real world communication.
Grand Canyon West Airport
1G4 ATIS   119.425
1G4 GND    122.900
1G4 TWR    123.900

Race Control Frequencies
RACE STRT   124.900
RACE CNTL   125.900
RACE END    126.900

Grand Canyon National Park Airport
KGCN ATIS   124.300
KGCN GND    121.900
KGCN TWR    119.000

Los Angeles ARTCC
KZLA CTR    124.850

---
Interested in joining ATConnect as a virtual controller?
That's great! We'd be happy to have ya! For more information, please visit our website: ATConnect.de