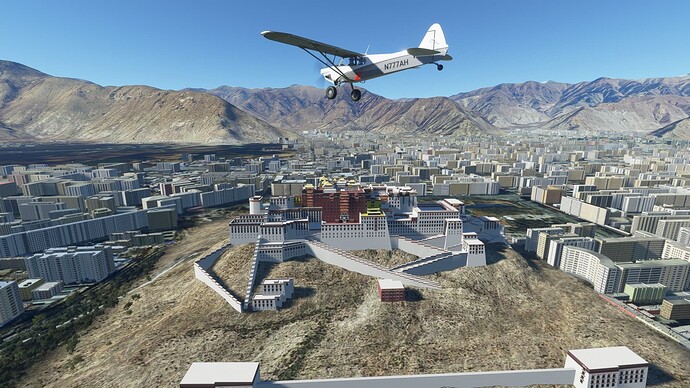 Above: the Potala Palace from forum moderator @CasualClick
We will be hosting an Official Fly-in alongside a group of community members (you!) on Twitch. This is an open event, free to all who would like to fly along with us and available to pilots of all skill levels. The goal is to have a great time, explore new locations of the world, and make new friends. This event is open to pilots on both the PC and Xbox platforms.
Hosted by @SeedyL3205, @Jummivana, and @Pieter1982NL
When: Friday, December 3 @ 2000Z for two hours.
2021-12-03T20:00:00Z
Where: The Official Twitch Channel of MSFS
There will also be a Discord event channel open for those who want to voice chat with other members of the community.
Please see below for details on the upcoming Fly-In Event:
FLIGHT DETAILS
This week's flight plan will see us traversing beautiful valleys in the world's tallest mountain range, the Himalayas! We will also fly over a very interesting POI, the Potala Palace, a UNESCO World Heritage Site since 1994. PC pilots who wish to join us can download the .pln file here:
Community Fly-In 2021-Dec-03 Snowy Himalayas.pln (18.1 KB)
For Xbox pilots, I will spend the first few minutes of the stream quickly explaining how you can create your own flight plan using the World Map. Alternatively, you can simply fly along with the group without using a pre-defined flight plan.
AIRCRAFT
Recommended aircraft: a turboprop or jet like the TBM 930, L-39 Albatross, or similar (suggested cruise speed of around 275-300 knots)
We will be starting at ZULS. Please load your aircraft 10 minutes prior to take off and taxi over to the taxiway or parking.
WEATHER
We will be using a custom weather preset for this flight, "Nice Snow". For PC players, please download the file below and place it in the following location (replace YOURNAME with your Windows username):
C:\Users\YOURNAME\AppData\Local\Packages\Microsoft.FlightSimulator_8wekyb3d8bbwe\LocalState\Weather\Presets
NiceSnow.WPR (2.5 KB)
MULTIPLAYER SETTINGS
Please adhere to the following settings so you can see everyone / be seen by everyone.
| Variable | Setting |
| --- | --- |
| Server | North Europe |
| Multiplayer | All Players |
| Live traffic | As preferred |
| Weather | Nice Snow |
| Time of Day | Morning |
It is advised in this flight to turn off both aircraft collisions and terrain collisions. If you do crash, you can use "slew" mode to join the pack. If the pack will be too scattered before the first stop, we will use slew on a defined point to regroup.
COMMUNICATION
To communicate with others, a voice channel on the "Official Microsoft Flight Simulator Discord" at https://discord.gg/msfs will be available to join.
LET'S FLY
This is meant to be a fun and informal flight. Everybody is welcome, no matter the amount of experience.