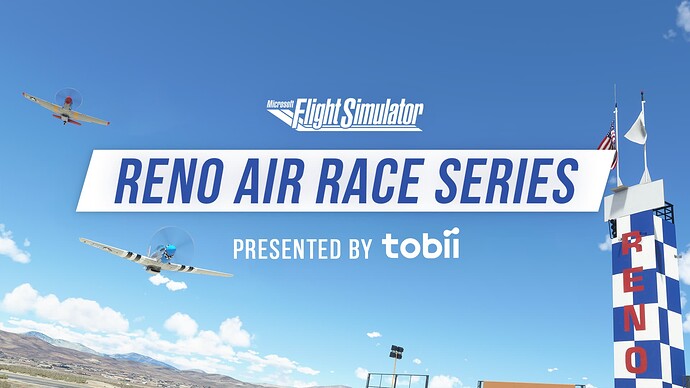 Together with our friends at Tobii Gaming, we are pleased to announce the next phase in our Reno Air Race Series!
On Wednesday, January 25 we hosted an exhibition match featuring some of your favorite Twitch and YouTube content creators from the Microsoft Flight Simulator community. Now, it's your turn to race for glory, bragging rights, and fabulous prizes!
Event Overview
In the preliminary round, up to forty-nine (49) lucky entrants will be selected at random to compete in seven (7) Unlimited Class races (one race per contestant). The first-place winner of each race will advance to the Grand Final.
In the final round, the seven pilots will complete one race of each of the four classes (Biplane, T-6, Unlimited, and Jet). Contestants will receive points based on their positional finish in each race:
1st Place: 15 points
2nd Place: 12 points
3rd Place: 9 points
4th Place: 6 points
5th Place: 4 points
6th Place: 2 points
7th Place: 0 points
Whichever pilot has the most total points after the four races will be the Grand Champion! In the event of a tie, the winner will be determined by the fastest total cumulative finish time across all four races combined. If there is still a draw, the tied contestants will compete in a single Unlimited-class race to determine the final standings.
Entrance Requirements
This contest is open to players on PC, Xbox, and Xbox Cloud Gaming. You must have access to Microsoft Flight Simulator and the Reno Air Races expansion to participate. Additionally, Xbox players must have an Xbox Live Gold or Xbox Game Pass Ultimate subscription to participate in online multiplayer.
All entrants must be 18 years of age or older.
When
Preliminary Round: Wednesday, March 15 @ 1900 UTC
2023-03-15T19:00:00Z
Grand Finals: Wednesday, March 22 @ 1900 UTC
2023-03-22T19:00:00Z
Where
Both the Preliminary Round and the Grand Finals will be livestreamed at the Official MSFS Twitch Channel. Come watch the fun and excitement and cheer on the competitors in Twitch chat during the races!
How to enter
Click here to register! Forty-nine (49) lucky entrants will be chosen at random to compete in the preliminary round on March 15. You must be available at 1900Z on both March 15 and March 22 to participate.
Additionally, everyone who completes the registration form will receive a 20% off discount code to purchase a Tobii Eye Tracker 5. Enhance your immersion in Microsoft Flight Simulator and over 160 other games with this fantastic peripheral! After completing the sign-up form below, you will be presented with a custom URL that redirects you to Tobii's online store with the 20% off coupon pre-applied.
Prizes
Tobii has generously donated hardware prizes for the winners. Additionally, we will be giving away Microsoft Flight Simulator and National Championship Air Races merchandise!
Registration Deadline
All entries must be received by 11:59 pm PT on February 15, 2023.
Terms & Conditions
The full terms & conditions for this contest can be found here.