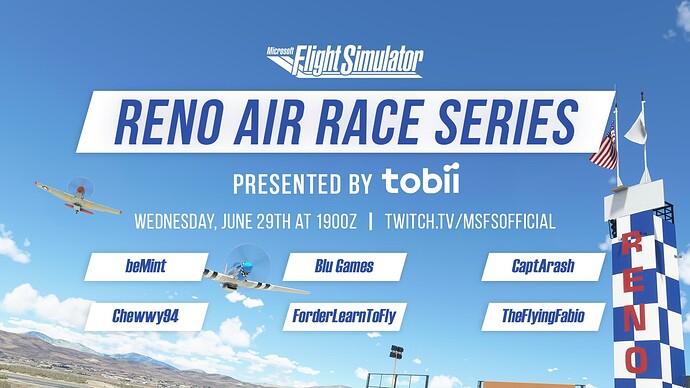 Together with our friends at Tobii, we are proud to present a new series of livestreams featuring Reno Air Racing on our Official Twitch Channel. The first of these streams will have Community Manager SeedyL from the MSFS team and Mistel from Tobii racing against some of your favorite content creators from our streaming community!
Who
Hosted by @Jummivana
Where
The Official MSFS Twitch Channel, https://twitch.tv/MSFSOfficial
When
Wednesday, June 29 at 1900Z
2022-06-29T19:00:00Z
Everyone is welcome to watch the races, cheer on the competitors in Twitch chat, and show your support to the pilots as they demonstrate how using a Tobii Eye Tracker 5 can increase the immersive experience of flying in Microsoft Flight Simulator.
Prizes
During the stream, we will be giving away several copies of the Reno Air Races expansion for Microsoft Flight Simulator, and Tobii will be giving away an Eye Tracker 5! All winners must be present in Twitch chat to claim their prize!
This June 29 stream is just the beginning, though! Stay tuned for more announcements to learn how you, yes YOU, can participate in future Reno Air Racing events and compete for prizes against other players!