Yes I'm having the same, normal have MobiFlight, Voice Attact and Edge browser in the background
I always had this problem in the past, is not only SU9 unfortunately and the solution is the same as yours with the task manager!
I don't think it's caused by SU9 of MSFS, I guess it's caused by the lower layer of 22H2 architecture update. Reverted to 21H2/22000.xxx which running MSFS almost flawlessly despite MSFS SU9 or not.
AMD Ryzen 7 5800X, 64GB RAM, RTX 3090, with all latest drivers.
Runs much better on windows 10 nothing but problems with windows 11
Here the only diff between 10/11 when its working correctly is 2 fps lower on the win 10 side…
Did it and thanks for the initiative!
Running well (not the smoothest as I hope we'd get with DLSS) but no issues with Win 11 insider program. Actually runs better than before in my case. Also with realtraffic software active
Thanks for your comment, so, you're in the Insider Beta or Dev program and you have no issues in VR mode?
That's correct, I'm in the insider program with no issues in either 2D and VR
That's very weird…
Many of us have the same issues and problems.
As Kilimbus has already asked, could you tell us your build?
Thanks!
No big issues here

The most recent insider build 25136
Insider build 25136 and I'm using the aero varjo headset
The Varjo doesn't use Windows Mixed Reality, correct? I'm wondering if that may be the bad combo.
I am wondering the same thing as well!
BTW, today in the Microsoft Store there was an update for the OpenXR Developer module. I did the update but not had the chance to test it yet, hope to make it for tomorrow.
@mbucchia is an OpenXR developer, I am surprised he is not (maybe) aware of this issue for a such long time. I don't play the gale for almost 3 months now while in the past every evening I was having my flights. VR is unplayable, 2D mode is ok but was perfect once.
I repeat again, I logged the problem in the Insiders Hub Feedback and is still under investigation for 3 months now!!!
I have an update left from another Insider user which he posted last night: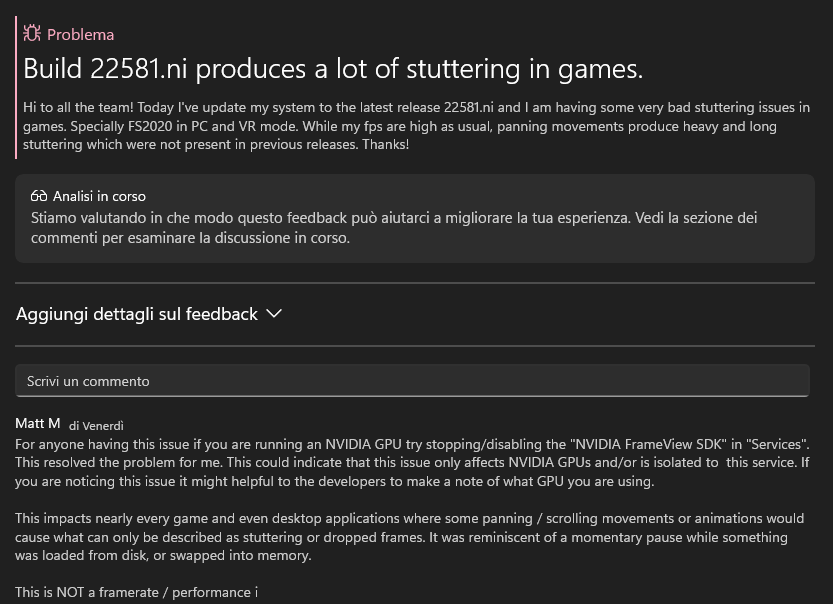 Tomorrow I'll try it at this point, let's see…
Well, I've tried the tip but didn't help at all, situation is the same.
In my case is not the Nvidia FrameView SDK service.
You seem to be conflating Windows and OpenXR (incorrectly). I know nothing of the Windows 11 side. As far as I can tell, this thread is about people using beta versions and getting poor results, which seems like a risk you were willing to take when you opted for the beta program(?) Also check that you have HAGS off, it seems to kill performance for many people.