Good morning forum,
I though I would post this quick in the off chance there is someone else out there like me who has yet to read the P2ATC manual.
I was talking with the Dev (Dave) about some of the beta stuff and also asked him a quick question in regards to taxing as sometimes the instructions given do not line up with the airport (some taxiways don't exist, etc…).
I asked if there was a way to update this and sure enough there is! It's actually quite easy!
Download MakeRwys.exe
https://fsuipc.simflight.com/beta/MakeRwys.zip
Create a directory somewhere and export the contents of MakeRwys there. This is where all the data files generated will also get created
Right click MakeRwys.exe and set to run as Administrator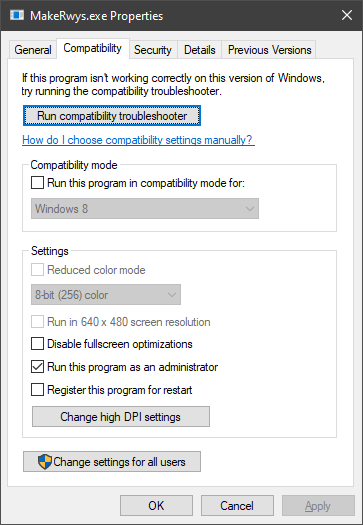 Double click MakeRwys.exe and let it run. This will find all your MSFS scenery (including addons) and grab all the required data from it.
There are also command line switches you can run if you want to grab extra data (water taxis, restrict taxiway length, etc…) All of this can be found in the manual
https://p2atc.com/Products/P2A_Docs.zip
The specific manual is "04.0 User Guide - Features, Functions + Operation.pdf" and starts on page 96
Now that you have the data extracted, start P2ATC, click on "TaxiMnt" on the right hand side and the Taxi Maintenance window opens.

From here you have a few options, can view current airport information / layouts, update a single airport, or update everything.
I updated a couple and tested and then updated everything.
Type the ICAO code for the airport you want to view in the top right and the map will open to it. Select Show Taxiways, Show Gates etc… to view the data.
Click on the "Import Scenery" tab.

Under "MSFS Folder with MakeRunways Files" browse to the location you ran MakeRwys.exe from
Then, you can either choose to import Single Airport Taxiways / Gates or all.
If you choose single, it will use the airport you entered the ICAO code for so make sure you update it to the one you want.
Also if you do single it will backup the airport data first. It will NOT do this if you do all so it is suggested to backup the SQL Database BEFORE you start any of this. It is found in the Data folder of your P2A installation.
Here are a couple before and after's of the Taxiways and Gates updated for CYTS and KTLH
BEFORE:
AFTER:
BEFORE:
AFTER:
I hope that helps!