HI all,
I've been flying for 10 months now on an X-Box X as it was all i could afford and I wasn't sure how good FS2020 was for me. Now I know I really like it and take a flight most days of the week (retired) so want some advice.
For me, the eye candy is a very large part of flying, I only fly GA planes like the C152, C172, C208, CJ4, TBM, DA62 as I can go low and look at places I know or see places I will never see IRL.
Now, having seen many Youtube videos, I can see I am missing a fair amount of visual detail plus due to stability issues I have not added any 3rd party airports or planes yet (hanging on SU10 for a decision) a point in question being the Spitfire and Duxford add-ons (local to me) pictured below is an example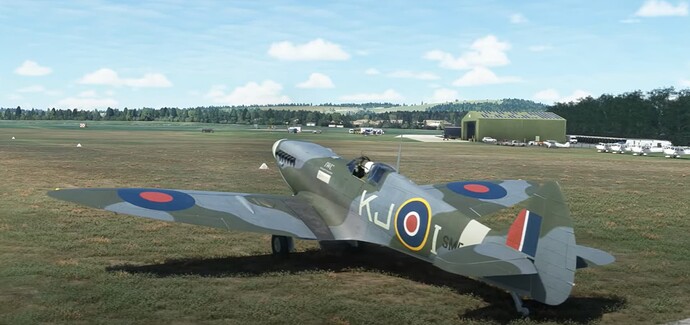 Zooming in on this, it appears almost as good as a real photograph, the detail is amazing. I want this, I love the X-Box, for what it costs it offers a lot but its not giving me it all and I want the max.
I have tons of questions to follow, but to start with, can any PC users verify if this detail is correct, if the sim behaves smoother on a high-spec PC, especially looking for response to others that moved from X-Box to PC.
Thanks all.