Hi Folks,
I'm currently running the latest patch which I could say as High-End systems. I tried a stress test over KSFO, KLAX, KJFK, and EGLL. Well, with most settings on High and Medium, I can't even get 20 fps.
Now, I put most of them to Ultra and sadly have to lower my 4K Monitor onto 1080p. I can't just lower to 1080p in-game as it'll so pixelated in results. Is this sim really hard to run in 4K?
I'm curious about some YouTube videos that running under 4K can get 40-60 fps, even with High Settings and much lower Specs compare to mine. (I found what with Ryzen 3700x and 1080 (NOT Ti).
Here are my NVIDIA Control Panel settings: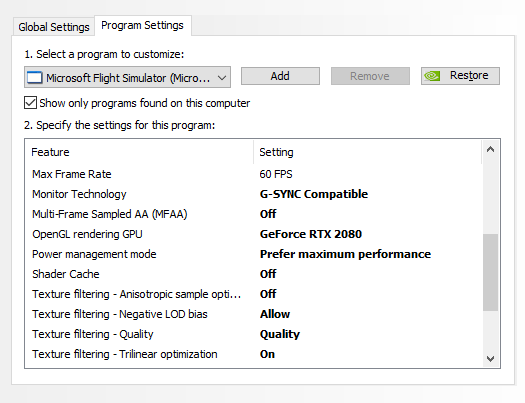 Here are my specs:
-i7-8086K 4.3 GHz
-MSI RTX 2080
-Corsair RGB PRO 32GB 3600 MHz
-250GB NVMe M.2 SSD (OS)
-1TB NVMe M.2 SSD (MSFS)
-Seagate 4TB Barracuda
I'm sure I don't need to replace my RTX 2080 yet as is still well-running enough on other games with Ultra settings and constant 60fps.
What do I miss with this sim?