Something that fascinates me is the origins of manned aviation, and the accomplishments of those early pioneers who trail blazed todays modern air routes. I have recently been reading about the Transcontinental Airway System, established in the 1920's as the first airmail route between the eastern and western coast of continental North America.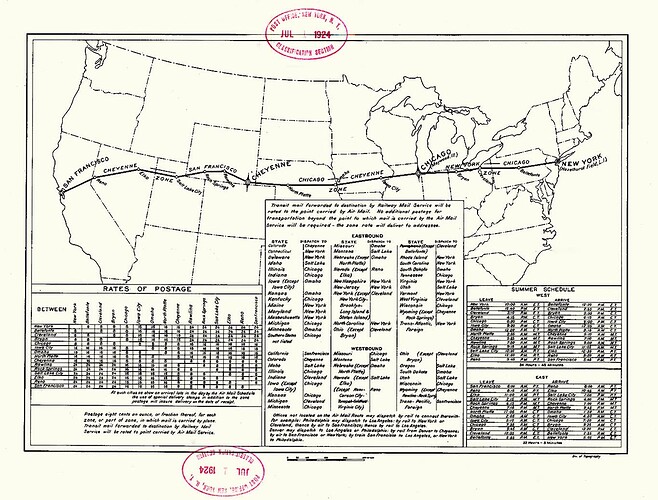 Upon it's inception, light beacon towers and giant concrete arrows were constructed along its length for pilots to visually navigate via as they crossed the continent, low level, the likes of Curtiss JN-4 Jenny biplanes taking between 32 and 35 hours depending on the wind!
Using Little Nav Map, I've recreated the original route (westbound) for MSFS and am planning to fly it over several days next time I get a decent block of time free off work. I thought I'd upload the flight plan both in it's entirety, as well as broken down into more manageable sectors, for anyone else that might be interested:
Entire Route:
VFR Half Moon Bay (KHAF) to Republic (KFRG).pln (11.0 KB)
Leg 1 San Francisco to Salt Lake City:
Download .PLN (4.2 KB)
Leg 2 Salt Lake City to Omaha:
Download .PLN (3.6 KB)
Leg 3 Omaha to Bryan:
Download .PLN (3.6 KB)
Leg 4 Bryan to New York:
Download .PLN (3.4 KB)
I've included VOR/DME stations in the flight plan for beacon tracking if desired, with the airfields at each end the closest current active runway to now defunct grass landing fields that the service used nearly 100 years ago. (Marina Field in San Francisco is now a public park, and Roosevelt Field in Long Island is now a shopping center).
If you end up flying the route, or finding any of the concrete arrow markers in the sim, be sure to share some screenshots here!