Come and join us in The Wilga Bush Racing Series!*
*Wilga encouraged, but not required
Casual group flights with a focus on fun and a bit of friendly "semi-racing" competition in some stunning locations.
If you do own the Wilga, we are using the 35X or 80X, but feel free to join in any Bush type aircraft if you don't have the Willy!
NEXT EVENT:
Wanaka, New Zealand, Canyon Race Course.
Sunday 19th March at 19:00Z
SUMMARY:
• AIRCRAFT: Wilga 35X or 80X (or similar performance light GA / bush plane)
• MEET: Wanaka, NZ - RWY11 [NZWF] (11L is grass, 11R is paved)
• WHEN: Sunday 19th March 2023 at 19:00Z (UTC / GMT). IMPORTANT NOTE: I'm told the USA daylight savings changes between now and then so double check your local time. It's starting at 7pm GMT (London time)
• SERVER: West Europe
• REGISTER: Post your name here or just turn up a little before the time and we'll see you there. Feel free to Join my Discord (link below)
• FUEL: 100% filled
• LIVERY: Any DEFAULT Wilga livery (important so we see each others Willys

)
• ENGINE REALISM: On (please, but see the route guide - it's not required if you prefer not to deal with Shock Cooling on this course!)
• FLIGHT PLAN: Meet at the airfield. Ideally join my Discord Voice Radio Channel so we can synchronise starting and talk during the event.
• RACE: Unlimited laps but let's just have fun! Nothing strict, just some stunts'racin'n'fun
MORE INFO:
As a coincidental tribute to the NZ World Update, we will be flying the next event in NZ!
I have found a really nice location assisted by a mod (below, not essential but if you can install it, it will be better). It's a really nice cross-country bush race with an interesting variety of terrain, amazing scenery but not too long to remember the course. Follow me for initialisation lap to learn the route (it's not super clear but you should be able to remember it after 1 tour around. The mod will definitely help).
Here is a map of the course that may help to visualise it: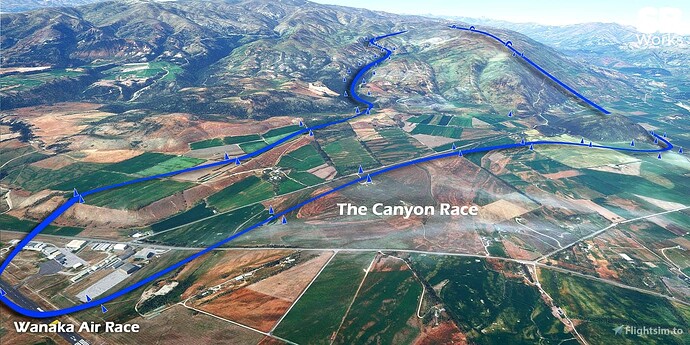 You will ideally need this mod: Wanaka Air Race » Microsoft Flight Simulator
And this Library dependency: SBWorks Asset Library » Microsoft Flight Simulator
And the Windy Things mod: Windy Things » Microsoft Flight Simulator
Basic route guide
Clockwise course. On take off immediate right, and up through gate on the top of the ridge next to airport.
Follow the plateau towards distant mountain.
Into tight valleys on left. Turn tight-ish left under the cables and follow those.
There is a slightly tricky to see sharper right turn after some more valleys. You will see a blue pole on the hill facing you, turn right there staying low in the valley, then more cables to go under.
Ahead you will see a blue arch to go through up on the hill, and a few more over this mountain and back down STEEP the other side. WATCH YOUR ENGINE on the down part - shock cooling!. You may need to not dive down too fast, reduce power and close your COWL FLAPS to not kill the engine - part of the challenge (if you dare have engine realism on, but for this event I will not insist on that)!
You will see in the distance a smaller mound/hill after the downhill. One more blue arch on the ground to aim for then turn right around that mound.
Straight over the flatland, with slight left when you reach the road to head back to airfield.
At the paved runway (which will be at 90 degrees to the direction we come from), tunr right going around the final CHEQUER gate just beyond the runway (keep that on your right) and back up to first gate for the next lap!
Join the Discord to find out more and get involved.