I'm currently running the beta evaluation copy of Windows 11 (released a few days ago) and I'm getting some interesting results with CPU usage.
I usually use Open hardware monitor to keep an eye on my CPU and GPU %usage and temps and also the Nvidia overlay on occasions.
Prior to the Win 11 update I was getting CPU usage showing as about 20-30% usage (an average of all the 8 cores on my Ryzen 7 3700X CPU). Now I'm seeing very low single digit CPU % figures showing in both hardware monitor and the Nvidia overlay (about 3-10%)
Also windows task manager is showing a more even spread across all 8 cores and with the Sim running I'm rarely seeing a single Core going above about 60%.
The sim is running very smoothly (the best I've ever seen it)
This is a screenhot from open hardware monitor with my sim running
Windows taskmanager shows this (taken at the same time)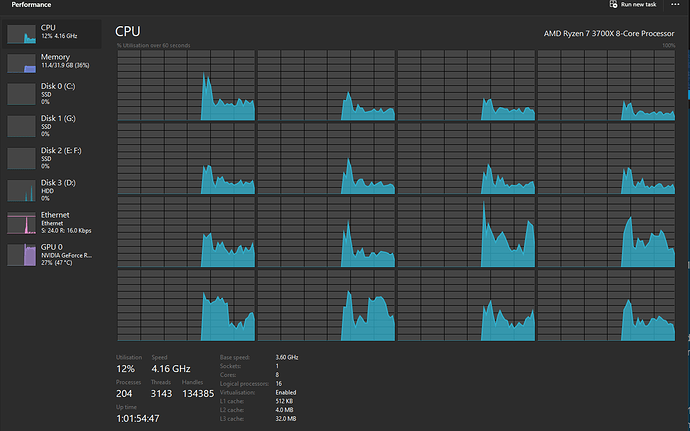 So either the beta version is screwing up the software that I'm using for monitoring or it's genuinely making better use of the CPU.
Either way I'm very happy with the Sim performance at the moment, getting a solid 40fps with most settings on Ultra or high at 1440p