Por esa regla de 3 habra que posponerlo indefinidamente porque en Ucrania mueren personas cada dia
Nothing to do with Ukraine. I assume the team are talking about the Air China incident.
me refiero k mueren por la aviacion
Whats the air china incident got to do with an Iberia update?
You tell me. They have stated the recent Aviation news, so I assume that's what it is.
Go to → Latest Community/News and Announcements topics - Microsoft Flight Simulator Forums
I highly recommend click the bell icon and choose watching first post to be notified.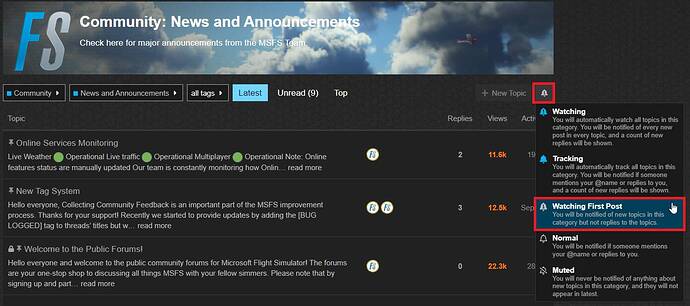 World Update 8: Iberia postponed to March 24 - Community / News and Announcements - Microsoft Flight Simulator Forums
Understandable on the one hand, on the other hand why wasn't it postponed for a week or a month instead?
Anyway, the Sim is great as it is - so I'll go for a ride nevertheless.
Kind regards.
Speaking as a professional pilot, this smacks of virtue signalling in it's most incomprehensible form to me. I've flown that aircraft type for many thousands of hours and without doubt what happened is an absolute tragedy and very sad indeed. Every time an aircraft crashes those that have a connection with aviation, however tenuous, feel it, but I fail to see the link between an aircraft crash and an update to a computer game, even if that game is a flight sim.
Sadly this is the modern world in which we live…companies are so scared of the social media mob and the relentlessly offended that they have become desperate not to be publicly accused of something that might in some way be perceived to be damaging to their brand. The net result is that they often lose all sense of sensible perspective and logic leading to daft decisions like this one.
I mean seriously, why not just go all in and turn the servers off altogether?
MSFS2020 doesn't even have a standard 737 and is not connected to China Eastern. If it was PMDG releasing the 737-800 today it would've made a bit more sense.
Yeah, I bet it has nothing to do with Asobo still having bugs to sort out.
I'm happy though. Updates from Asobo usually means something in the sim breaks and we have to wait until a hotfix (if we're lucky) or the next sim update. Please delay the world update even more, Asobo.
It's been delayed as a sign of respect. Who knows who this has affected and their could even be people in this forum who have lost loved ones or are victims of the accident. I see no issue with them doing this.
In what way is this showing respect?
Please do tell….
Let´s just assume for a moment that the WU would have been published normally as it was meant to be… Who, in his or her normal sense of mind, would have criticized that?? Would it have come to anybody´s mind??
I just did. Maybe read my comment again.
Respectfully, I completely disagree with you.
Showing respect would be, for example, the addition of a splash screen during loading with something like "Dedicated to the passengers and crew of China Eastern flight 5735".
Delaying an update for 36hrs is pointless and shows nothing at all. As I said, it's virtue signalling.
"good job Microsoft/Asobo for delaying the WU. It shows compassion"
Starts msfs and flies anyway
I didn't realise respect had to be shown in a certain way. Unbelievable!