Thanks for the info and suggestions. I am too tired to be doing this today, so will tackle it tomorrow and try those things.
Tonight after work I just wanted to relax and fly for a bit, but again it would not boot - even with the 5600 we had set the previous time. It seems to be one time it does, then next time it doesn't, so I end up back at BIOS setup screen after force-powering down, save with F10 (no changes) and this time it does boot. Pretty random.
Anyway, this time I took out 2 sticks in between the lockup and powering on again. Left it at 5600 but it did boot to Windows OK and I have been flying without problems (probably would have booted with 4 sticks too, I don't know). I will try from cold boot in the morning still with just 2 sticks and go from there.
Weird that it hung first with orange light, then a beep and nothing (not the "post" beep - a different one) but then red light came and stayed on on the mobo (top right corner) which the manual says is CPU but may not be the actual cause, just a starting point for troubleshooting.
These are the settings now with the 2 sticks and no changes on Bios since this time it forced me into it: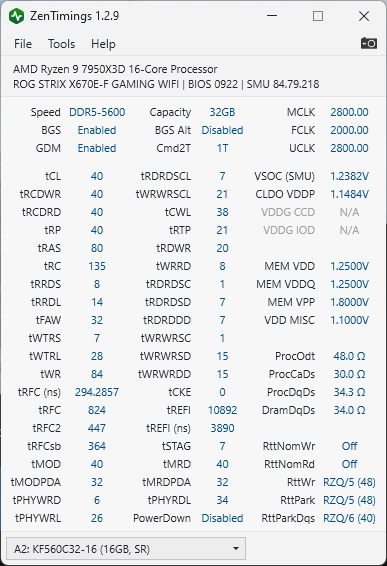 Also I do feel like I want to get 64gb working. In MS Game Bar, whilst running FS I can see RAM usage is like 65%+ sometimes and I thought anything over 50% and it starts using the pagefile? I was getting some annoying stutters just now in this session. I mean it's silky smooth but then get the odd stutter and it's really noticeable as its so smooth the rest of the time. I turned LOD back down (to 200) but still getting them which I think it should not really be doing, but who knows