Route was: SBSV/10 TIRKU2A TIRKU DCT AZOTE UZ10 NTL UN873 SAMAR DCT BEXAL DCT
LIGRA LIGRA8A LPPT/03
did the degradation startet as you cam in Render distance of the Mainlland of Europa?
My flights are mostly 1-3 hr hops within Europe, so didn´t really had this problem until y tried to do a long haul 13.5 hour flight from Madrid Barajas (LEMD) to Santiago de Chile Pudahuel (SCEL) after doing it in real life (what a wonderful country Chile is, by the way…).
I did it in the sim just before World Update 8, with version 0.94 of the Headwind A330 Neo.
Frame rate degraded from 30-40 when leaving Madrid, to about 5 fps in mid-Atlantic. I had to exit the sim and start a new flight from my last waypoint (50 - 60 fps in the air, above the ocean). I arrived to Pudahuel at 12-15 fps some 6 hours later.
After WU8 in the sim, and a massive update in the Headwind A330 Neo to the latest version (1.04 maybe?) I repeated that flight with much better results (not perfect, but better).
I flew for 13.5 hours and landed at Pudahuel at 20-25 fps, not great, but way more usable than 12-15 after restarting the flight mid way.
The next day came back from Santiago to Madrid. 12 hour flight. Departed from Pudahuel at 35 fps, and made it to Barajas with no interruptions, with frame-rates at 20-25 (If I load at Barajas, I get about 30-40 fps).
Since WU8 should not have changed anything at all in the sim itself, I guess something in the Headwind A330 Neo (maybe the cockpit by FBW) might have changed and caused the better performance I got in my last two flights.
Now with SU9, I´ll repeat the flight to see how it goes (it must be this weekend, since I don´t use elapsed time).
Let´s hope this problem is a thing of the past.
dosnt look like this because i am in su9 beta
You should change out of the SU9beta to SU9, get out of the insider program and so on.
I'm 5 hours into a trans Atlantic hop from KJFK to London Heathrow and albeit there has been some degradation, I'm not experiencing any significant lags or audio skips after the last update. Plus I turned all my graphic options to Ultra just to test it and I'm rocking between 20-30FPS (locked @30) Very, very cool.
I usually fly around 1-2hrs/flight
but another data points(long flight) that I have recently are…
WMKK-YPPH approx 5.5h no issue (pre SU9 update, with Volanta,a32nx exp)
I should have checked task manager…
2)RJAA-PANC after 5 hrs sound has gone and unplayable,exit the flight (pre SU9, 747 salty with Volanta )
3)RJTT-PKMJ after 5 hrs huge fps drop but still playable(pre SU9, no Volanta, hw a330 1.04, no EFB used:some said EFB on a330 is considered one of factors of performance issue)
4)VTBS-YSSY after 6.5hrs sound broke and fps gets down around 5-10fps and exit the flight (after SU9, no Volanta, Vanilla 747, no mods)
In the case4, acually I didn't have bad Manupilator latency but GT coherent draw and Main thread went high. Same as last time, commited memory went up to more than double when I started flight while active memory usage stays around the same.
Also after exit the flight and went back to the main menu, commited memory weren't released. I should have start another flight at that condition but I didn't

so I'm not flying European area but still having same issue…?
it could be anything a object like a boat or even a specific waveform over the atlantik or a simple memory leak because of to much scnery loadet or a specific building a bug in aircraft rendering of traffic interference in data so i noticed in parts of the world where more buildings and meshes have to be loadet the fps drop increase
it happens to me over the ocean . ive been trying to complete a flight from miami to barcelona for over a week now i can only get 4 hours in before the big fps drop then i quit because whats the use ?
is there a specific point on route? did you try a different NAT?
Hello again!
last time Ive been there was months ago
I still have the Perf Degradation issue, fun fact, last week I've been able to fly and even make long hauls without problem, then next day, probleme came back; I don't know what chabges, it was before SU9
Asobo please, look at this Topic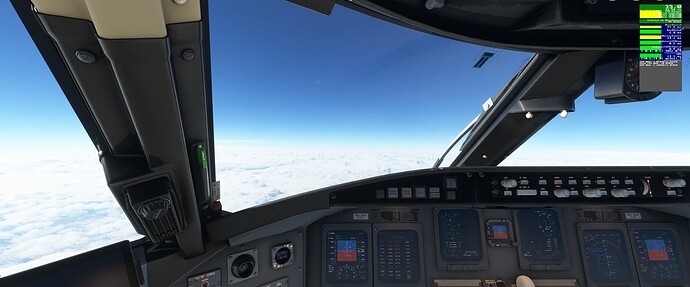 And it happens even with no addons installed.
I just installed the CRJ nothing else.
53 minutes into my flight from Norway to EBBR
Mainthread and manipulators going nuts.
Pulled off a 11 and a half hour flight from London EGLL to Hong Kong VHHX on the A330-900neo, live everything, graphics settings on Ultra and the checkerboard landing was smooth and by the numbers. 4 hrs in, I got the same FPS drop, but it remained in the 20-30FPS zone, so I had no problems with controlling the airplane.
This clearly is still an issue though, albeit it seems to be much more tolerable now for me at least.
Just tried a long haul after a few weeks. Was hoping the upgrade fixed the problem.
Well… it didn't. 5fps slideshow after 3,5 hours. Close giving up on this sim.
first time experiencing this 5 hours in to a flight with a339 from headwind frames gone from 70 to 5fps tried turning off traffic and weather still no luck
I have tried to disable Windows Deffender, but no success - performance degradation is still there. I wonder what is meant by "anti manipulation feature" - I have not found it in Deffender, neither on Google. Well, I have tried to disable everything in Deffender, so I do not think I have missed it. Sadly it's not the issue.
Please, everyone try route from EGLL to LKPR - I have degradation on that route every time, on same exact spot…
you have to find in the extra options of windows defender i think its called system integrety i translatet it from german sorry
For those of you who wondert what options i turned off in defender to get my fps back ons and for all its in defender settings divice security core isolation.
Dont forget to turn this option back on after you are done with msfs flying because its usefull in defending against most randsomeware
For the ones experiencing a fps loss in the middle of flights at high altitudes (FL250+), what happens if you turn your TLOD down to 10?