Tom, that did it! Thank you!
First flight after the update and my middle G1000 display is not showing all info… the frame is there but not any of the content
Same issue for me. Same issue with da40 ngx
WT is aware and working on it, sounds like.
While waiting for WT to fix the G1000 I am giving this a try as an alternative. I visit msfsaddons.com and funny enough this came out recently.
I had to disable the WT addon to get the engine info to pop up again. Technically the GN750 is in beta but you get a free activation key to enable the premium capabilities. I like the touch screen controls better, especially for VR. Here is a screenshot to get an idea what it looks like.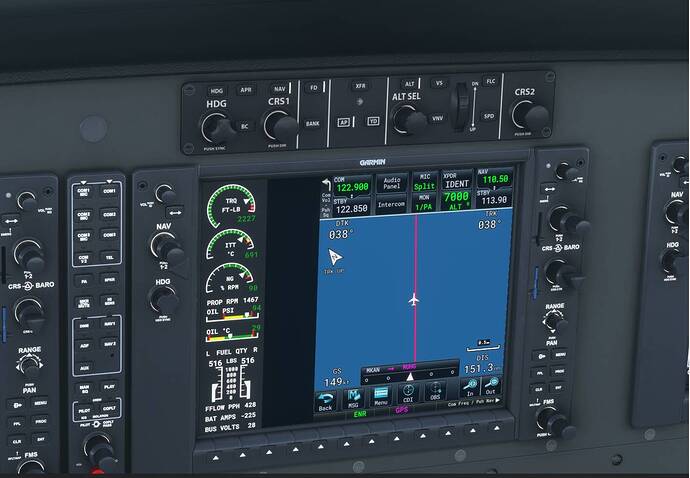 OK, looking at DonAlexander810 great post, can some one confirm what mods/folders/actions I need…
I have nothing in my community folder relating to the G1000, or the C208B…so starting clean.
I downloaded C208B-mod-v2102.3_NW9YD.zip. and it provided for my community folder, C208B-mod.
I downloaded workingtitle-g1000-v0.34.zip and it provided for my community folder, workingtitle-g1000.
I thought i saw where there is an updated version of this mod? Do I need the updated version?
I have, wt-g1000-0.3.4-fix, which has CommonPFD_MFD.js. Do I drill into my Folder… official>onestore etc and overwite the original 'CommonPFD_MFD.js' file i see there.
Then I am done??
Hi
After MSFS updates there are problems with C208B-mod-v2102.3. Most people are using version 2102.1 . The link to it is in post 257 on Mar 3

The current version of the WT G1000 is v0.35

The contents of wt-g1000-0.3.4-fix goes into the WT G1000 not the official folder, the path is
g1000\html_ui\WorkingTitle\Pages\VCockpit\Instruments\NavSystems\SharedCommonPFD_MFD.js
Hope that is all clear
I use C208B-mod-2102.1 and workingtitle-g1000-v0.3.5 and I have:

Thanks to everybody for the good mod work.
Thanks Don, that was super clear, and all installed, AND all seems to be working fine. When I tested the engine, its output went over the 2500 on the first use of power, but then settled back to 2495 when I reduced power initially, then full power again. The map worked great. I seemed to have a very big amps draw, but maybe I need to get used to being inside again and make sure switches are where they should be.
Cameras are still very clunky. The Ctrl/Shift+1-9, bring up the instrument views ok, but getting back to look outside is still space bar?
Hi Por, glad you installed ok. I know nothing about the workings of the mod, like you my expertise is PNG scenery. Re the cameras I use Ctrl + 1-9 and if you press the same keys again it brings back the default view.
Back to the G1000, i haven't used it for a while, been using the GTN750, so when I installed v0.3.5 I noticed it doesn't work as it should. You need to make a modification that is explained in the G1000 notes.
In the C208B-mod/simobjects/airplanes/asobo_208B…/panel directory are 2 xml files. You need to copy the contents of WTEngineDisplay.xml and paste them into the Panel.xml file at the top just after
Hope that is all clear.
After installing WT 3.5 have you reinstalled the fix for the annunciators and have you modified the panel.xml file as explained in the working title changes.md, and detailed in my post this morning to por9300.
Hi Don, Thanks for your great help. I am not too good under the hood so to speak. takes me ages to get my mind around the various steps, and i usually have to prepare all downloads and make a small script…1. do this. 2. do that etc. and keep this for reference for other ventures.
I will look back though the posts and check into the other mods you mention and sort of creep up on it. The C208b is a great workhorse. I have been also waiting for the Kodiak to appear one day, as there are a few in MFS production.
The C208b has a lot better ground steering and braking, and seems to have more grunt when loaded. Empty, it is very bouncy on the strips, so i usually always have 60-70% load. I will have a look at setting up the camera views a tad better, as bush strips need very good vision.
Are you using the PMS5 GTN750? I was looking at this today, and thinking of getting involved. I used the Reality GTN750 in the P3Dv4 and was a very good system. They are still working out how to rebuild theirs, so i was curious about the PMS5 version.
Geoff
Hi Geoff, yes I know what you mean, like you i'm getting on in years. Yes it is the PMS50 GTN750 i'm using with the WT G1000 installed as well as this provides annunciator warnings etc. I much prefer the GTN750 as it is much easier than trying to rotate knobs when the plane is bucking about. Also the G1000 mod doesn't have OBS which as Ryan says makes orientation much easier. With the (at the moment) free premium version you also get terrain radar and vcalc. I would certainly recomend you try it, it's all free at the minute.
Pretty quiet in this thread lately. Are we holding our collective breath to see what next Sim Update does to the Caravan model?
Indeed… I really hope turboprops will get some love in this update. I do not expect them to be fully fixed, but at least I hope they fix the prop drag that will not have to be offset by flaps' effectiveness anymore for STOL flying.
And if not… back to the mod
I'm too lazy to look but the last dev Q&A specifically mentioned the Caravan getting a total rework for this update releasing on the 25th. They demoed the new turboprop logic in the video as I recall.
I'm hopeful this will bring a nice improvement!
I've quite come to like this bird and improvements to the engine handling would be very welcome.
Okay, just tried the stock C208 with SU4 installed. The engine seems to behave more realistically now. Ground roll on takeoff seems greatly reduced. I set cruise power at 1900RPM and 1750RPM according to the POH at 4,000ft and fuel flow was within just a few gallons of the table. Reducing throttle for descent results in a much quicker reduction in airspeed; drag seems more noticeable. The bucking bronco pitch up behavior is more tame when applying flaps–you still need to trim but it's manageable. Normal and short field landings were easily performed by the book too. The reverser behavior is greatly improved; it actually seems to do something.
My big complaints are the yaw damper still doesn't work and the default G1000 is still lame (AV1 bus turns the MFD and PFD, for example).
I would be curious to hear others' thoughts on the new model. I hope the improvements that Asobo made in this patch will spur the folks who have been kindly working on these mods to keep going!