the same as all that other reports about a 00000005 , forum search helps here

Is there some more interesting info within the error under it ?
Heh, a few of us seem to be in teh same boat now.
Had 13 CTDs while troubleshooting:

This is the first time I've seen ntdll.dll as a culprit, but already powershell removed and replaced it. . .still no joy.
Funny thing is the app failures are mostly FS.

most intressting is : ntdll with error c0000409
I have somewhat with the MK Studios in mind, or the G1000 or some invalid AppData files ( you can cleanup ) or a system issue where user reseted windows, etc. . There are existing topics where you can search for. Important is the combination ntdll with error code 409 ( c0000409 , 0xc0000409 ) the ntdll with 0000005 is diffferent.
But also if I see the "Hardware errors" and all that crashs from the Corsair app, all that looks not realy good. Also the oculus software is a known trouble maker, as we can see in your reports too.
Yesterday I ran through the steps in this thread.
I know in the past month or so I've had a lot of hard reboot crashes (worse than CTDs) and am sure that system files were corrupted because of that. Interestingly, the steps in the link above seemed to have cleared up those (as well as "fixing" ntdll.dll). The corsair app is just the LED controller for my keyboard. For the longest time I've had my logitech mouse plugged into it, but I swapped it' location to the motherboard, just for curiosity's sake. I don't use iCue for anything but the keyboard. I read on the corsair forums that iCue does have some conflicts with nahimic (audio service) and I did find a new version of it for my mobo's built in sound. I may have to get a sound card for reliability's sake.
I am also aware of oculus being wonky and finnicky software, and honestly it wasn't my first choice. A buddy gave me his old Rift S, and I was stuck in the "you need to have a FB account" nonsense. I plan to ditch it off in a few months for something with a wider FOV. I also opted out of the beta in the control panel.
Bottom line: after the windows clean up, and slowly adding addons back to the community folder (and re-installing a few) I've successfully started FS and tested a few launches with various complex aircraft, and even added in FSLTL. I let the FBW idle at the gate for 2 hours yesterday while working, and no crashes so far. Interestingly, I have no honeycomb controls plugged in now either. Previously I had the A & B plugged in with the TM airbus stick (which is a great nose wheel steering "tiller") and the TM pendular pedals. I'll check the alpha and bravo later. I know their control profiles can sometimes cause CTDs after clicking "fly now," so I deleted all the profiles and will rebuild them later.
I'll report back if I can make a successful flight.



I also come from Logitech to that horrible ICue. Some hints: I created profiles and stored it onto the keyboard itself ( internal memory ). I removed all the default dashboards in that software. I disabled all that Corsair Services ( I know, these app is ranting then , but I ignore that ). So, I never have a crash of these software and it need then "only" 200MB RAM.
Nahimic is an old topic… it caused for lots of users crashs if the sound drivers are outdated. I manualy remove that thing ( needs some tricks ) and also all these best-of Asus-Sound-tools. At least you can try to disable Nahimic service, but our experiance was: it will be reenabled from time to time from "some what".
And yep… allways do a windows cleanup from time to time. Also, you should some time Restart windows ( not simple shutdown ). Disabling Fastboot ( extended energy setttings ) can also fix strange issues. The "sfc" and "dism" should you do if you had e.g. a BSOD ( sometime also only a restart, without the "blue screen"

).
You can also cleanup from time to time MSFS AppData folder. May be not necessary, but I do it some times and in case of issues, it helped some users ( example 1070 amp extreme ctd on every loading nvlddmkm - #8 by MichaMMA ) ( note: content.xml should since Su10 no longer matter, so far I know )
And now, good luck with the test flights
This! I had a hyperX keyboard that worked much better with respect to the keyboard lighting. But I didn't dig in to saving to the device memory. Done that now! Thank you so much! I'm going to uninstall iCue now since I just have my keyboard set as an Estonian flag all the time anyway.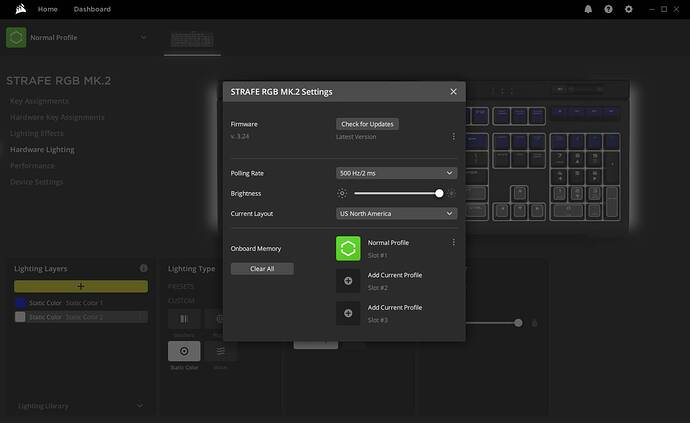 Yeah, I have all the asus tools gone and have kept the sound as vanilla as possible. Apparently in June '22 there was an update for it (DRV_Audio_RTK_UWD_SS3_TP_W11_64_V6093591_20220616R).
I hadn't checked that in a while. . . fingers crossed, although I am still heavily leaning towards an PCIe sound card and just disabling the onboard stuff once and for all.
Thx for the link! I'm all about tidying up every now and then, so I'm definitely bookmarking this. Now, I think my pax are on board so time to actually try a flight!

… better only remove is from auto-start in case you want update the profile.
I have it running because it auto-switch the profile depend on the application I start. I have a "profile switch" key on the keyboard, but its more comfort for me

Of course if you need only one profile, in that case I also would stop that application.
So. . .2h 37m of flight time plus startup, load and shutdown and secure. . .and all is good.
And FSLTL is amazing.

Not sure which action improved things, but I'm back up and running.
To the OP: try the windows cleanup linked in post #5.
One last tidbit of info. I have recently been shuffling my computer case around a lot, and re-checked the vid card was lined up correctly with the backplate. It actually was canted at a slight angle. I noticed that the DP cable was touching the case while plugged in and that the vid card back plate was off to the side a little. I unscrewed everything, pulled the card out, and then re-aligned everything and reinstalled both holder screws. Everything is back in alignment and I haven't had a hard reboot since.