This is perfect!! Cheers!
Has anyone figured out why AP stopped working on the F-15? Any fixes? Driving me nuts…
I think Track IR has settings for tuning the head location? Maybe not per jet though?
The landing lights look great? Are those in the last mod? Or will be in the next one?
Nevermind, found the file with the lights.
Would you like to have a pilot body, from the cockpit view, guys?
Something like the F18 from DCS World.
Off topic : Please vote here, guys, for the flyby view
I wish I knew too! Working on a fix for this for the next update, hopefully next Friday.
I think I saw "instant replay" was a top wishlist item due out sometime in 2021. Wondering if this includes tower view - always loved that in the old simulator
Instant reply and Tower View is not the same
Ok people! Let's go again with a minor update revision:
dcdesigns-aircraft-f15_rev_1.10_beta_rc1!
In this small revision, but important in our opinion, we wanted to go one step further in what regards to the engine thrust curve.
You should notice a more balanced throttle control at values ​​between idle and 75% throttle range, providing better speed control for your landings and cruise speed in general. In short, we have improved the curve so that you have more control over the engine power in general.
According to the tests made by SilentG37, Severus and PridedThread577, they conclude that Thrust / throttle lever movement is improved, the aircraft is more stable on approach and it flies itself down the glideslope hands off just needing small power corrections. Again: thanks for hours of further testing and feedback.
We have been also working to provide a non-perfect solution for taxi-landing gear lights, so we added a temporal fix that will only work until the next oficial update (Dean has it own roadmap about this, and we are pretty sure his next update about this will be better than what we are providing right now, so this temporal solution only wants to improve your experience meanwhile).
Their position have been corrected and this light solution makes them work automatically: this means that they are "on" when the landing gear is extended and "off" when landing gear is retracted. Also, the lighting improvement is abysmal compared to the standard version (as you have seen in previous post), so we expect you to enjoy better visibility during your night takeoffs and landings.
We will keep improving the flightmodel meanwhile.
My best regards and hope you enjoy it, and as always, I await your feedback to continue improving it.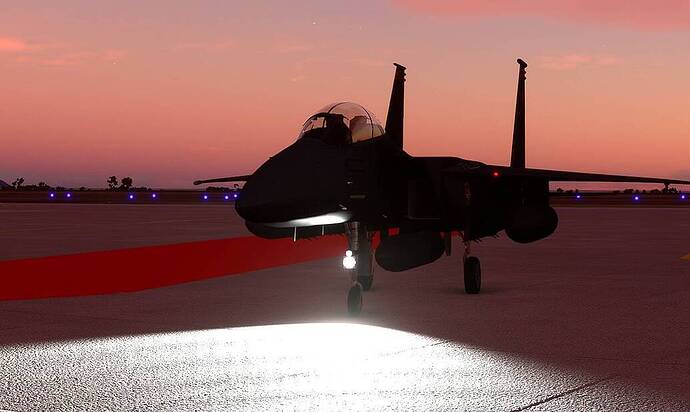 Instructions: Delete my previous mods. Rename .pln to .rar and unzip to your community folder as follows:

dcdesigns-aircraft-f15_rev_1.10_beta_rc1.pln (145.7 KB)
This aircraft is getting better and better, day by day
So far, I love it, didn't touch any other aircrafts, in the last couple of days
Thank you very much
I completely agree with Mattalaraka974 agreeing with Aviattore7040 loving the F15.
No, I just found the picture on the internet
I love this livery.
Hopefully, someone here with Photoshop skills, can create one
This plane actually visible in multiplayer, if others have it installed? Or will that only work with the one from the in-game store?
Just wondering about it all, because multiplayer mode isn't already too forthcoming in regards to airframe data on player labels as it is. So syncing (installed) planes is debatable.
I have yet to see another F15 in the skies.
(Also, I hope the F22 doesn't take too long to make. It'll make for nicer screenshots. lol)
@Glowtape it is visible in Multiplayer if both have the plane. Already had flights with friends and today met another F-15 by chance.
I presume probably on the US servers?
–edit: lol, I'm in Europe and the ping to the West Europe server is higher that the East US one.
Saw these planes on trips to Germany way back when. My Uncle was in the UK Forces over there for many years.
I'm after a Lakenheath Strike Eagle tbh. Have a Tamiya 1:32 scale model of one and would quite like to fly it
That was on Europe West around EDDS.
Wasn't by chance me? That's an area I regularly fly in.