Textures on Svalbard are also very sketchy. This is just after taking off from the new handcrafted Svalbard airport.

Water masks are (nearly) everywhere…
Not true. Checked out some photogrammetry in Copenhagen… see below… but don't put your screenshots in medium, this is ultra,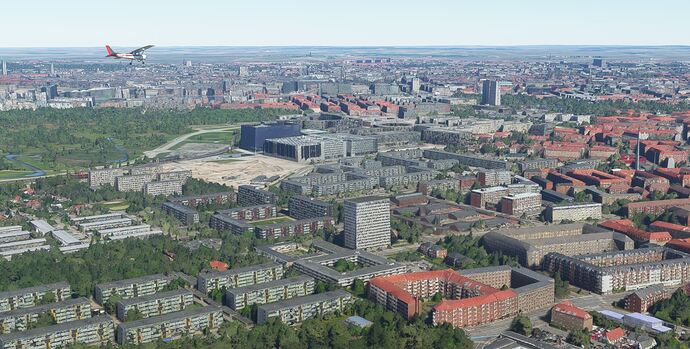 maybe danes should sculpt a bigger mermaid to attract masobo's attention.
Woha! Great site - totally bookmarked
There was once a similar site, but it somehow disappeared. Could it be that this is the successor of that site?
In any case: a great resource! Thanks!
Copenhagen PG has been in the sim since day one, I'm talking about the fact that no new nordic PG additions at all… no Oslo no Stockholm no Helsinki no nothing…
Copenhagen is covered with PG since day one, in August 2020.
If the MS Store is not offering the download and you were in the "Beta"; make sure you "Leave Preview" from the Xbox Insider Hub app.
TBF, thats not new, it was there since launch.
you may need to visit marketplace to add the updated handcrafted airports.
Yes, I understand. Downloading from market place. Thank you
And before someone asks if my online textures work correctly, this is the same area of Svalbard I'm looking at a few posts above, just in Bing maps. The satellite imagery is simply bad in many places even with the World Update, and the sim just uses what is there.

Hmm I had no older images of Copenhagen, are you sure ? I checked the outskirts, not the center. There were programmatic as well as photogrammetry downloads… But no cities were named… and I noticed this WU is quite small… Gonna check out Norway tonight ! Keep in mind there is a 20m DEM (6G) on flightsim.to and I'm definitely going to compare that ! The size of that data is about the same as this update, at least the download of it…
Also check out the content manager as there were 9 updates in there for me as well.
@Hester40MT the insider app CRASH when i click "Leave Preview"!!
i cannot get out of the beta, and can't install the new update.
btw great that nobody says it and im 1 hour trying to update…
please let me know how i can leave the beta.
DId you install the 2 world update packages from the MS Store?
very low draw distance and morphing mountains constantly in norway
I suspect server load issues for some of this
Nah, it's not. It's missing and low-res Bing imagery, as I explained a few posts above.