still not avalable on MS Store!
The graphics pre-cache slider is indeed only for 2D, but it's been confirmed that in the userconfig. file there is a setting for this in VR as well, it just didn't make it's way to the on-screen menu in the VR graphics area…so some users have changed the setting in that userconfig. file from 0 to 1 to activate the new caching option and set it to '3' to make it Ultra…I haven't seen them report back yet on the in-sim results of this but it's promising as a workaround. Also, the forum manager acknowledged this question about the lack of a menu option for VR and passed it along to MS/Asobo. If it's indeed in the code and we can work around it that's great, but how does something like this escape the QA process when that graphics feature (presumably for 2D and VR) was talked about publicly so much.
Update didn't show up, then quickly installed Xbox app, restarted, and voila, worked, as Jane said, now finalizing the World update download in the cont manager.
And after a sim restart, trying to plan a route via de world map again CTD. Grrrrrr 3 sessions 3 CTD's
Please……
It could have been worse, some are waiting since January
It feels as if there is no one working on any VR code in the game at all anymore!?
what are these graphics all about? the state of them trees!!! ffs
A complete list of all new POIs somewhere? I have to see which castles, airfields, churches, villages I now have twice.
For those unable to update on PC: I followed the part I and part II instructions.
The one instruction that fixed it was to install Xbox app (Get) and then PLAY MSFS from inside the XBox app. Just loading the XBox app was not sufficient. You had to Play from inside the Xbox app (which just really launches the PC app.)
Once I had done that, the store Downloads and Updates showed MSFS after pressing Get Updates.
Did you download the 10 gigabytes from the content manager?
That only happens when there is 0kts of wind, which is extremely rare. As soon as you have 3kts or more it looks perfect.
Quite frankly I'm not even surprised. VR was, like most of the updates, released half baked. Comments are re-enforced by the fact that the new rending setting didn't even make it into the VR menu
Thanks to all of you providing the hint with the XBox App. With that the update completed in no time compared to the last ones
downloaded everything i can
NIGHT LIGHTING IS BETTER! More realistic, but a new bug with weird reflections in the sky at night.
But at least the scale of night lighting looks better to me…
Still have pop-in, even on ultra pre-cache setting, but not as bad as default SU5. I guess I was just expecting these terrible triangles/photogrammetry to be improved upon in the sim per the patch note (paraphrasing here) "distance increased for photogrammetry cities". Departing JFK, half the city still looks un-rendered/yucky with PG set to ON.
The screenshot is in HDR, apologies - note that the payware NYC skyline shows on left, but Asobo NYC PG on right looks awful, all on ULTRA.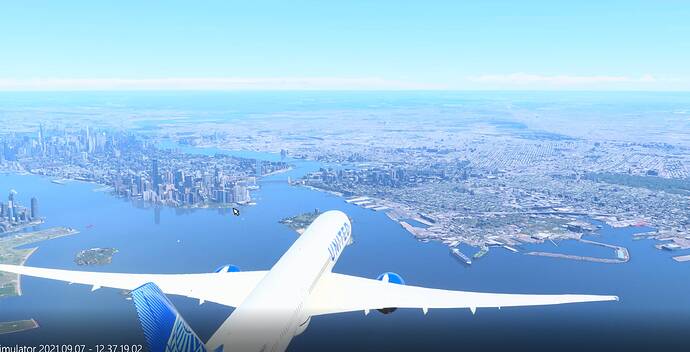 Doesn't matter. Bug fixes first
The bug list just grows and grows but with prettier graphics.
Update: I'm at FL340 cruising altitude I can confirm the altitude issue has been fixed!
every time the preset ''clear sky'' is used there is 0 wind
basically, every bush-trip