Take my money!!
I'm not, normally, really big on using combat airplanes in civilian flight sims. But, I've been having a great time with the Asobo F-18. So I'm probably going to be picking this up. It is my favorite modern fighter jet. And to have both the single and two seater version is icing on the cake. Maybe we can all meet over Nellis and chase each others tails' around. "Fight's on!"
Last post here probably before the launch, which is due with Just Flight on week-commencing December 6th, 2021. @CodenameJack447 has done a huge amount of work to bring full fly-by-wire to the F-16, which allows for ( almost ) carefree handling and simulates the Viper's formidable dogfighting agility extremely well.
Tons of liveries, all the usual good stuff we try to put into our packages, we're just doing a final week of test flying while Sim Acoustics deliver the custom F-16 sound package ( recorded from a real F-16 ) and we'll be good to go
Wow, awesome. Didn't realise we were so close to launch. Can't wait.
This will be another first-day purchase for me.
Any idea on the pricing for this aircraft ?
Hey @DEAN01973 may i interest you in a special Greek and real livery?
2015_zeus_iii_2riat_02-1|690x431

Hows the afterburner effect being done with this? Has it got Asobo's new effect copied over from the F-18?
£24.99 and equivalent, about $32 I think, for all three jets in the package ( F-16C, F-16D and F-16I ).
@SAKISAPPOLON We already have a HAF livery in there, can't include too many or the package will be too large, but there is also a paint kit so I'm sure plenty of repaints will appear before too long.
AWESOME !!! Thanks a lot for HAF
Four stage afterburner, big plume at night but mostly internal during the day. The bottom right image cannot show it, but the flames are animated.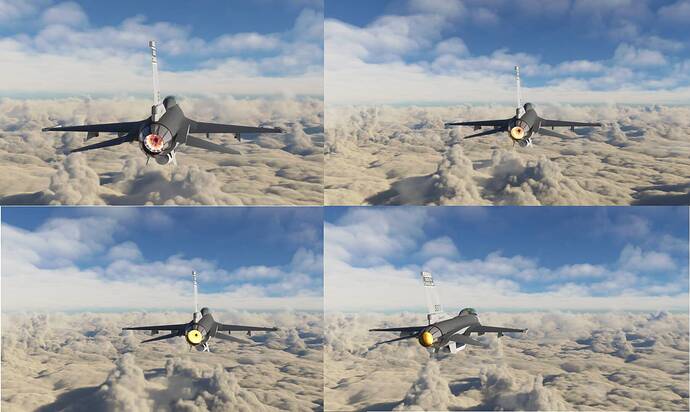 This is so cool.
With it's bubble cockpit, the F-16 well make a great sight-seeing jet.


For me, a child of the '80s, the big 4 are: F-14 , F-15 , F-16 , and F-18. Can't wait to collect them all !
Can you send this version to Asobo so they can get the ball rolling so we don't half to wait 3 months for it to hit xbox lol
It doesn't work that way I'm afraid.
Looking forward to this one!