Are you on Steam or Microsoft Store version?
Steam
Are you using Developer Mode or made changes in it?
No
Brief description of the issue:
I just cant take it anymore. All I freaking wanted was to play this freaking game like a normal human being. I bought the GOTY version and what I got was a game in Beta-status (at best) with a TON of bugs.
Doesnt matter which Bush-Flight mission I start, Ill get frame drops almost exact EVERY 60 seconds.
Found a ton of other people with the very same issue but no solution, even on this forum. Happens on all kind of hardware, no matter if Nvidia or AMD.
"Frametime Spike = Stutter, Every 60 Seconds"
"https://www.reddit.com/r/flightsim/comments/id9mn2/1_second_stutter_every_60_seconds_on_the_nose_in/"
https://www.flightsim.com/vbfs/showthread.php?329775-Display-lags-freezes-for-a-split-second
"Stutters every 60 seconds? - Microsoft Flight Simulator (2020) - The AVSIM Community"
etc.
What I tried to get rid of this issue :
Reinstalled game 3x times (yup, you heard it right)
Change graphics settings to everything LOW (video clip)
deactivated real life traffic, Internet, and every possible setting in the menu
removed OC / stock settings hardware
Enough is enough. I wish Ive never bought this piece of trash. Sorry for the language, but it took me almost 20-30 hours to figure out all of the bugs which ruined this game for me.
its funny how people with old hardware have almost no problems but most people on new hardware suffer from issues big time.
Get your freaking sh*t together and please for gods sake, fix this game. Please.
Provide Screenshot(s)/video(s) of the issue encountered:
[Video is going to be uploaded in a couple of minutes.]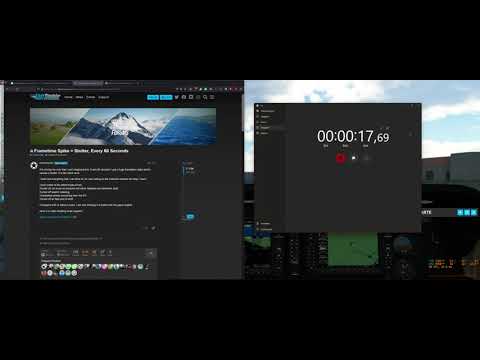 PC specs and/or peripheral set up of relevant:
5900X
6900XT
Aorus B550 Elite v2
SN 850