Hi everyone
!
I'd like to share with you my story with CTDs (Crashes To Desktop) and how I managed to get rid of them completely.
TL;DR
Windows Update "updated" AMD GPU drivers automatically. It actually downgraded them and made my PC incompatible with FS2020. A complete drivers reinstall helped.
But first - my PC specs:
AMD Ryzen 5 3600
AMD Radeon RX 5700 XT
G.SKILL RipjawsV 32GB (2x16G) 3200MHz DDR4
600Watts PSU (labelled)
Flight Simulator installed on 512GB M.2 SSD
Windows 10 Pro 64Bit PL with English US language pack
My situation as quickly as possible before I fixed the issue:
1. I had AMD GPU Radeon Software Adrenalin 2020 Edition 20.8.2 drivers installed - the drivers compatible with MSFS2020.
2. The game run quite well till December 2020. Had few CTDs, but they were really rare. After ~December 2020, suddenly - CTDs started to happen very often. I was rarely able to finish a single flight. A true nightmare.
3. Every other game I had run flawlessly. 0 issues - except for MSFS2020.
4. I had multiple community addons installed. In short - they weren't the issue. The same was true for the December 2020 game update (though I thought it was the reason for more frequent CTDs - eventually I found out it wasn't).
Here I can show you my Windows Event Viewer window (Apps related entries):

As you can see - there's 0xc0000005 exception code, which can mean literally anything.
Here comes the important part - a screenshot from Windows Event Viewer window (System related entries):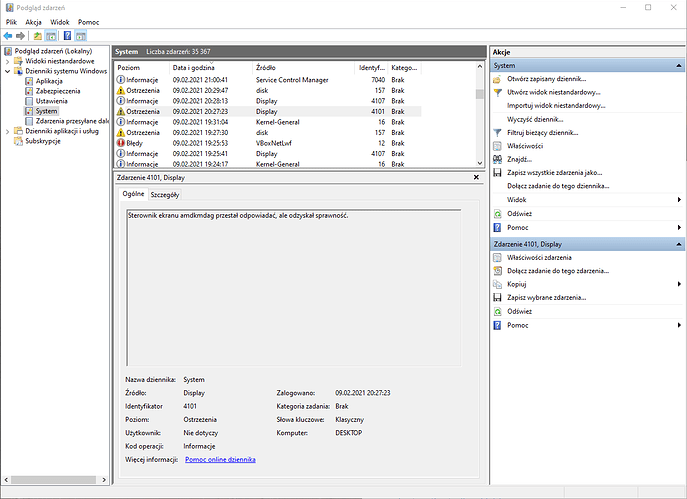 Boom, here it is. "Display driver amdkmdag stopped responding and has successfully recovered." message. The timing fits MSFS error message perfectly.
So here is the question - what was wrong??? Every other game worked perfectly, the drivers were fine, right?
Apparently the drivers were NOT ok. I decided to check profoundly my Windows Updates history. I found there AMD Display Drivers installed in… December! Here's what happened: Windows 10 update service decided to automatically, quietly, whitout asking anyone, "update" (actually DOWNGRADE) the display drivers to OLDER version than was installed in the system! Absolutely ridiculous, right?
It should've never happened, but it did. The result was that "AMD Radeon Software" settings worked just fine and I had no idea that such thing happened. If I hadn't checked the exact driver version (which was something from February 2020) - I wouldn't know it was the reason that ripped my nerves apart.
After I found this, I decided to do a complete reinstall of my GPU drivers. I used DDU (Display Driver Uninstaller) tool, then downloaded the latest GPU drivers from AMD (21.3.1), and…
everything works perfectly now. I hadn't had a single crash to desktop for 2 weeks now (over 30hrs in the air)
.
SO PLEASE BE AWARE OF WINDOWS 10 DRIVERS UPDATES as they can be pure evil clearly!
I hope somebody finds this helpful

Greetings!