My only advice and top tip make sure you have enough fuel
This is awesome! I'm going to have to get the camera out! Appreciate this! It really is inspiring to see! Did you use any special scenery for your trip?
Thanks! Also glad to see there are some crazies like me having fun doing the low and slow around the world!
Monty
3/7/21 - Air Time - 2.2
Hey @EddieSimes @SwoopGB @gordongreig @DrinkingGuide84 @Biggles1950 @JWATTS0275
Happy to report I completed Leg 2 CYUL Montreal to CYFC Fredericton. I used all of your advice. Stayed low, just flew VFR with the heading bug, and took in the sites.
Went over downtown Montreal, and then east across the St Lawrence River to Quebec City. Then took a right turn down to Mt Katahdin in Baxter State Park. Continued east to Fredericton and took in the snowy surroundings.
Unfortunately didn't have MTL CTR, but got BOS and Moncton on VATSIM.
Not quite at @gordongreig level, but here are some photo's!
Montreal downtown

Trois Rivières

Quebec City

Mount Katahdin

Fredericton

Hope your trips are going well! Please share your photo's and legs! And if you really want to stay connected I can create a Discord server for us to put everything into!
Monty
I'm going west to east as well. I don't have much money like some people, so I can't afford to buy a new plane every time I want to skip over some boring part like water or desert. I'm flying an XCub and plan on touching wheels to every country I possibly can. So far I've landed in 81 countries, logged almost 180 hrs, and flown over 20,000 miles. I've never increased sim rate or added fuel mid-air. I've flown VFR in live weather exclusively. When I've crashed from my own mistakes, I've re-flown the entire leg. I've flown one livery, and I will return home in exactly the same aircraft that I left in. I know I'm going to get spanked for this, but any other method of flying around the world feels like cheating. To each their own, I guess.
Hardcore. I love it!
Thanks, and your pics are a great start. Don't blame me when you've filled your hard drive though!
I've only bought a few scenery add ons so far - London City (although currently doesn't work with the new photogrammetry - although they are fixing this), Sydney, Hong Kong, Seoul, Shanghai and Singapore. Everything else is standard. I'm not rushing to buy any more scenery, and as I'm flying to all different airports all the time, I don't see value in buying airports - but that's just me. If there was an Edinburgh one through the marketplace I'd buy that, just because I know it well and the control tower is quite cool in real life.
Much of the beauty of this sim is going off the beaten track though - pick a random airfield you've never heard of and see what you find
I love it! I need to take something a bit quicker, but doing the same as you. Taking my Caravan for the whole trip!
Are you keeping track of your route somewhere?
Monty
I've been appending flights together with LNM and occasionally post the results to the Bush League Legends discord. I'm also flying with the BLL group on their RTW on Mondays and Thursdays, 7pm EST. Yes, I'm flying two concurrent RTWs. The flights are open to everyone. We primarily fly the modded XCubs and liveries created by the founders and other group members, but all aircraft are welcome. If you don't already know about us, Bush League Legends
This is awesome! Had not idea it existed. Will definitely join the discord! Thanks!
This is really cool. I've not downloaded any community scenery - heard bad stories about google data being included in some that is not optimised and tanks frame rates
This thread makes for a great read! So many good tips from EddieSimes and those screenshots are just incredible gordongreig!
I'm planning a sort of round the world trip, from England where I grew up to New Zealand where I live now. I've read a few books from famous trail blazing pilots in the 1930's who flew these routes in single engine piston aircraft and blended together several of their passages to create my own.
Like others, I've planned the trip out in Little Nav Map and then exported the flight plan data into Excel to break the trip down into legs. At the moment, the performance calculations are based off the Asobo Beechcraft Baron, although I'm thinking of waiting for A2A to release their Piper Aerostar to be able to fly a little faster.
Each of the 16 legs are between 3 and 5 hours long and designed to be flown VFR below cloud base where able to enjoy the scenery. I'm going to go for real world weather too- just need to have the spare time available to dedicate to smashing it out over the course of two or three weeks!
Looks like an awesome trip! You will have to let us know about any highlights! And of course you are are going to have to post some pics!
Personally, will love to hear if you find any particularly amazing places in Europe and the Himalayas!
Thanks for sharing!
Monty
@DrinkingGuide84 @SwoopGB @EddieSimes @SteveOhhNo @gordongreig @Biggles1950 @JWATTS0275 @WardoMon52 @zkdos
I wanted to say thanks for all the advice and input! To be honest I never though this thread would get this many reply's let alone this many super positive replies, and I'm excited more than ever to continue the trip!
No pressure, but I created a discord server that I would love for you to join so we can continue the conversation, and the idea sharing. Also, it would be really fun to just keep tabs on where everyone is in their trips! https://discord.gg/vwmXPbVgMj
I set up a trips channel, and a photo channel with all the different continents.
Hope to see you there, and thanks again!
Monty
Leg 3 - CYFC Fredericton to CYHZ Halifax - 287nm - Air Time - 1.9
A new paint-job for C-CBLB!
A Great VFR evening at 2500'. Mostly clear skies with some FEW and SCT. I departed out of CYFC and headed south to the Bay of Fundy. Flew the coast east to Confederation Bridge (Canada's longest at 12.9kms connecting PEI to New Brunswick), and then north to try and see the famous Anne of Green Gables House. I think it was actually there lol… but snow made everything the same colour, so couldn't tell. After that, I headed back down south to take in downtown Charlottetown, the capital of Prince Edward Island. Got there just before sun set, and then finished the leg south, over the Northumberland Strait to CYHZ Halifax, which welcomed me with a gorgeous sunset which I usually only get to see IRL flying.
The Bay of Fundy, and the sunset into Halifax were definitely the highlights of this leg for me!
My buddy giving me a push
Departing CYFC Fredericton Rwy 15
Bay of Fundy
Charlottetown
Sunset into Nova Scotia
Arrived at CYHZ Halifax
Route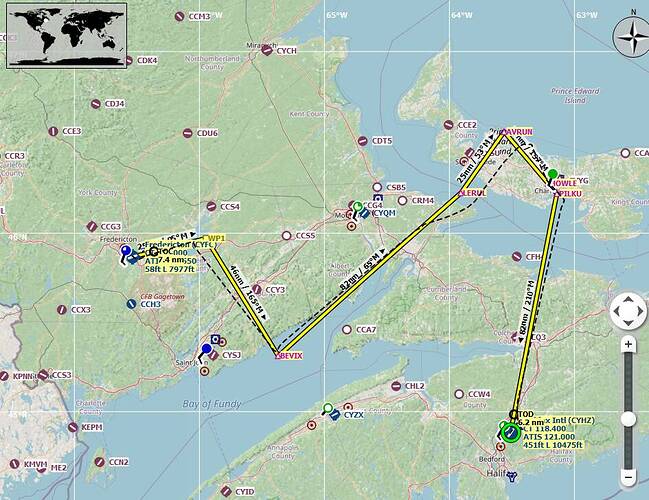 Greetings from a fellow Montreal lover (I assume you are one anyway), and a fellow real pilot (I'm just a student pilot at the moment).
I'm glad you downloaded LMN, and also glad you're flying VFR. Cessna 208 is a good choice to enjoy MSFS in my opinion, though it's a little too powerful (and thus easy) for the challenges I've taken on in my journeys. I recently flew across all of Alaska in a Cessna 172, with live weather in February. I did almost crash and die several times, but emphasis on "almost." The 172 has no de-icing equipment so I had many close calls.
Flight planning when your plane is not a jet is a huge part of the fun of doing a trip like yours. I don't think Newfoundland to Greenland will be too difficult in a C208. But what I am really curious about is how you eventually decide to cross the Pacific. This is the Pacific that killed Amelia Earhart of course, despite her plane having about 2,500 miles of fuel capacity. What will your strategy be? I am a frequent Pacific flyer and would suggest simply avoiding it: the landable islands are too far and few between. You may be better off sticking to Russia and crossing over into Alaska, which is easy in a 208.
Also, similar to you I do insist on two strict rules for myself: Live weather only, and live time only. In a C172, this means not flying on a particular day if the weather is atrociously bad. I still take risks a real-life pilot would not take, but I try my best to not ever crash in the simulation.
For another comparison of how to maintain a trip journal, here's my current journey across India:
@Sudburian Amazing!
Thanks for sharing your Journey! I'm a Toronto boy, but my parents and wife are from Montreal, and I absolutely love it. Go there every year for the F1 Grand Prix, and spend a lot of time in the Eastern Townships at my wife's family cottage.
The people in this thread were amazing in pushing me to the low VFR style of the trip. My rules are live weather, and VATSIM, so that I can keep my real world flight planning and radio procedures sharp during COVID. I actually just passed my CPL flight test in January, so I was kind of planning the trip more like an IFR CPL pilot. Very direct and efficient, over the clouds, etc… I'm very happy everyone convinced me to make the change and do some sight seeing.
I do agree the C208 is definitely easier than the C172 in the winter ha! I'm sure you had some wild rides! Especially with how the icing is modeled right now in FS2020. For me I decided the 208 was a good balance of still needing to plan the trip and fuel, fast but not too fast, can fly low, and land on small strips. Also I think some of the places I will eventually be going, like Africa, Amazon are places the 208 goes in the real-world.
As for the Pacific. ughhhhh this is a bit of a heart breaker for me. I'm the type of person who want's to fly the c208 the whole way. I think I can get it out to Tahiti, but the stretch to Easter Island is too long. A few in this thread have suggested to fly the route you want and switch planes to make it happen, but somehow I am already emotionally attached to this digital airplane ha! I think it will have to be Australia up to Japan, Russia and Alaska. It will add a lot on to the route, because I will eventually have to go down the west coast of the America's and then back up the East, but I guess that is part of the adventure!
Your journal looks awesome! I am going to take a good read through it!
Awesome thread folks. I'm a real life corporate pilot with just over 30 years under my belt. Covid has drastically cut back our flying so I got back into the flight sim world.
Decided to fly across Canada in Piper Arrow, VFR, low level. Only go IFR if it is really necessary or to avoid being stuck for days on end.
This thread has inspired me to push the trip even further and head around the world.
I started this morning on the east coast of Canada in the city I grew up in, St. John's, Newfoundland (CYYT). Made it to the west coast of the island and will be spending the night in Stephenville. CYJT. Weather was good, but the winds were gusting to 34kts on my Gander stopover.
I'll start another thread about my journey and add some pictures.
I decided to head west, out to BC, Alaska, across to Russia, and from there…who knows.
Keep an eye out for G280Driver or C-GDGB
Everyone else, good luck on your journeys, hope we cross paths along the way.