Great trailer. Hopefully we'll get a (probably paid, but that's okay) helicopter expansion with more heli's early next year. Also really hope we get helicopter AI traffic too.
Microsoft's plan is to release a paid DLC with a few helicopters. It is not clear if we are getting a free default helicopter yet.
I am glad they have done the G2 as it was the trainer I advised them to do since it's a modern helicopter and we are surely getting some Robbies done in the future.
Don't know what you are talking about but the yesterday showcased helicopters are all free of charge as well as the other aircraft like the INI A310 (which was confirmed by them yesterday)
Can you supply a source for that information Delta2k5?
Have you seen this information in a different video or something,
nothing along those lines is mentioned in this video.
Very nice!! Thank you for that HawkMoth9135.
We can count that as confirmed true then!!
Excellent news for everyone right there!!

The proof is provided by iniSimulations forum post about their 80 bucks payware:
Also fselite, which is a trustable source which got direct connections to the MSFS team wrote an article:
"The 40th Anniversary Edition will be a completely free update this November for those who own Microsoft Flight Simulator or play via Xbox Game Pass. This is a "comprehensive celebration of the franchise with both a tribute to our past as well as an introduction to new and highly anticipated aircraft types.""
Edit: nvm, wasn't fast enough
All good bud
Thanks anyway, Plenty of confirmation there.
Good to have it all available in the same spot.
Really hoping that it won't just rise up UFOish when we pull collective up
I sat down with Jorg to talk about helicopters and get some confirmations. It was a nice conversation with interesting info about how Microsoft is handling future features and aircraft.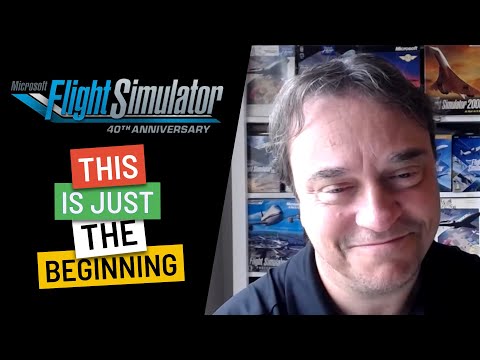 Very awesome interview! Thank You @Spac3Rat and to Jorg! You both touched on something about visuals as you land. I took the Drone the other day and landed in front of my house… There are tons of trees around my house and street… as I landed, it looked like I was landing into a huge hedge… in fact you could not see the front of my house, it looked like just a slice of "Tree Cake" lol. So it is obvious they have not extended the Bing technology in the game to include street views. I have flown in real helicopters, not as a pilot, but as a passenger. I am a Broadcast Engineer, and had to helicopter to some transmitter sites as you could not get to them by road in the winter. Also when I worked in TV as we would use the helicopters to cover live events. So it was said in the interview, you can land just about anywhere, so it would be interesting to see how it will look. I hope they have some challenges like medical transport… picking up a patient and landing on a helipad some where at a hospital. Sergio, I have not heard of your site before but I am going to check it out now. Thank you again!
Over 500 posts later and the plea from all of us is finally on the horizon. I had not played MSFS much recently but have got back into it now VR is improving and the promise of helicopters.
You should take a look at the Hype Performance H145 Action Pack. It gives you the challenges you ask for. Even winching up patients from wherever you want. In my opinion, the best add on available.
You're forgetting me nagging them since 2019

I'm glad you enjoyed it and I hope others did as well. It was a small, yet important opportunity to get some clarification and a few more reasurances.
I don't expect helicopters to be perfect and without issues from day 1 but I have no reasons to believe Sebastian won't do a great job with the first iteration and we'll be here to nudge MS and Asobo and let them know what needs to be fixed.
Jorg already knows about all kinds of cool and crazy things helicopters can do as their mission so it's a matter of the team start splitting it into deliverables and start working on it. It's even more complex than with fixed wing aircraft as there's a huge amount of missions that need their own mechanics – which you don't have on fixed wing aircraft.
Fingers and toes crossed.
Do you think they are working to fix street view if the coptor lands on the ground??
Jorg mentioned that in the interview. Not right now but they want to improve things at ground level.
Yes, that was a nice interview… tons of great info!