None of the CH products are supported either. In an early FAQ about the release of MFS there was a list of the supported controllers. Essentially Thrustmaster or Logitech.
My Sidewinder Precision 2 works fine P3d but not at all MFS. Hard to believe Microsoft isn't supporting their own hardware. Of course it is old, but so is the supported Logitech Extreme 3d Pro.
Mine works great. Its not detected by MSFS but you can easily assign the axis and buttons as required.
Theses sticks maybe old but their accuracy is probably better than many modern sticks. Can't wait until we get some force feedback via 3rd party devs.
The CH Stuff should all work, as should toehr "non supported" hardware. Basically it seems that "supported" means it has a built in config file. If your hardwqre is working in Windows, you should be able to set it up in FS, just need a little time to do it.
We would need even less time if MIcrosoft included a few extra lines of code in MFS and provided support for these joysticks in the release.
Can you please tell me how I can make my Sidewinder Force Feedback 2 to work in MFS2020? For the moment I see it under Controller but my plane doesn't react at all…
click on the Filter on left side and select "ALL". By default the filter is set to "ASSIGNED". Than you will get all controls and you will be able to set the axis and buttons like you want to.
Look up through this thread to about Aug 21 and check the posts by SquatterAunt721. He has very comprehensive instructions (including screenshots). Basically you need to manually assign the buttons and axis of your joystick to the sim flight controls. Hope this helps. Good luck
UPDATE: Rudder dead zone fixed ? Good to know but where what link discuss about this fix please?
Ah OK, I settled mine to the Z axis on my first custom configuration. Thought I didn't set a dead zone letting at 0% deadzone. All the axis are -49% sensitivity and 0% deadzone. Happy with that.
Nevertheless thanks for your input.
Same here…no force feedback.
There is no force feedback at the moment. We are waiting for it to be implemented however i think XPforce has released a program now.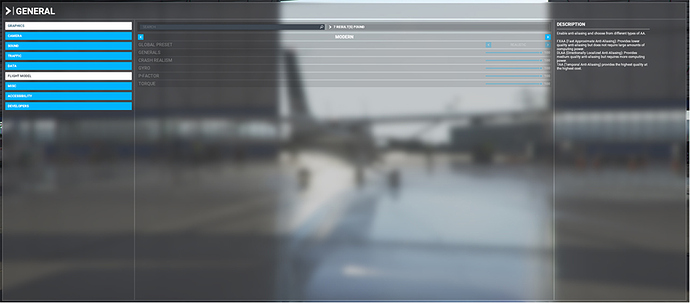 I tried to change Flight Model from Legacy to Modern and now my SFF2 seems to work well, including the ffb effects completely tuned by the sim.
OMG – Thank you !!!
I have not used by Sidewinder 2 since FSX shut down.
(When they disbanded the FSX team at Microsoft, I went "Cold Turkey" on Flight Simulators, and got my life back !!)
8 years later, and I had forgotten about the sensor, and the original "Electrical Tape" had long fallen off,
Can't wait to try it now - thought it had stopped working correctly with year of neglect.
Hi Grumpy. I totally agree with you on MS not supporting they're own product. And to replace it with a force feedback of current controllers is not cheap. I hope your able to get yours going to your satisfaction. I thought I was all ready to go, including re-building my PC to hopefully run MSFS2020. And when I finally get the download down, The big red warning about my controller! I said to myself what you said on this post, so I had to chuckle, for now. Probably won't be when I'm done getting it working or replacing it.
And then just to comment, I had to give blood, answer email, set up a sign in to the forum after signing in to Microsoft. Take Care, happy flying
I've got my Sidewinder 2 running "OK" on FS2020, just acting like a simple "spring centering" stick. (need to put that tape over the sensor, or your nice stiff Joystick, goes instantly limp and floppy, which does not do anyone any good)
When Russel gets FSForce running with FS2020, all it's true worth will be restored to that of its performance & features it once had in FSX.
Nothing like feeling the bumps and air forces, thought the stick.
AND – You can trim correctly, without picking up bad habits from spring centering Controllers !@!
Check out XPforce, there's a program which gives firce feedback for the ff2 joystick