I get that money is tight and we all work for our cash but I keep hearing, "For what we paid for this…"

With inflation = $137.95 Base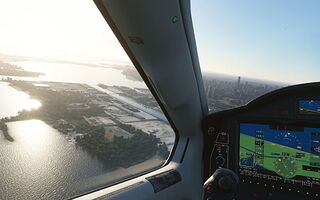 $59.99 Base / $89.99 Deluxe / $119.95 Premium Deluxe
I think we can all agree that we got a lot more for our money this time around.
And for those that argue that, "At least it worked…"
BUGS Flight Simulator II at release.
If the Reality mode is enabled, the engine stops when leaving the Editor menu to resume flight.

Three out of the four Instrument Landing Systems (ILS) available in the default scenery are not accurately aligned with the associated runway. The affected ILS localizers are offset from the runway center line by up to 2°. Only the alignment of Van Nuys ILS 16R is correct.

On European C64 computers, the simulation runs 20 percent slower than real-time speed. Consequently the airplane appears to react sluggishly and flight progress is slower than shown on the airspeed indicator. For the latter reason, navigation parameters like ground speed, wind speed and estimated time of overflight cannot be correctly determined.
Let's step back and take a deep breath. Asobo/Microsoft have delivered a pretty amazing technological leap. We are riding the hairy edge of developement. There are going to be some casualties along the way. I for one am enjoying the ride. Let's keep working together to help those with issues and try to reduce the frustration some are dealing with.
This sim/game has been out long enough that the knowledge base on this forum is getting deep enough that I think we can manage to bring everybody along on this ride.
Keep perspective and Fly ON.