Wow that is a drastic improvement! You've done a fantastic job improving it!
will it also come to Xbox marketplace ?
That's the idea! I am unsure if any additional work will be required for that, MS will tell me. If storage limitations are a constrain, XBOX versions may have to live with 2K textures and a single livery (but still the newer textures, that have more than just upped resolution). Although I hope it will be 100% identical to the PC version.
Keep in mind that I expect MS to take a couple of weeks to verify and publish the aircraft (in both platforms) after I send it to them. Hopefully I will be able to do that next week! If XBOX version will require changes, a bit more wait may be required there…
That is awesome!! thank you. I love flying this aircraft.
Mario, thank you for the news! Looking forward to it! Your stuff is awesome!
I love this plane Mario, thank you!!!
Love the look of the updated textures Mario… Fantastic!
This plane is currently under £10 on SimMarket, which makes it easily the most underpriced addon I've ever seen
There is no better value for money aircraft available for MSFS.
Anyone on the fence… don't be! This is a genuine absolute bargain.
Hmmm I'm just wondering if the update at Simmarket has already been updated
I still have version 1.0 there, and the textures are still the same as before.
Do you know more about @MariopilotPD808 ?
Yes, as far as I can see, the latest release is not out yet.
Nope…definitly not.
I'm all the more surprised that some praise the new textures.
Where else can you buy the updated version except at SImmarket?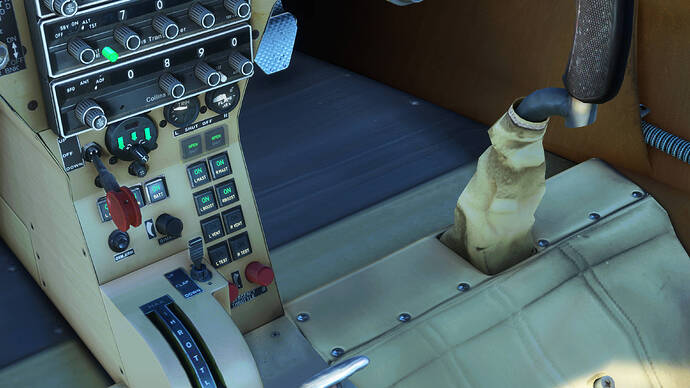 The update is ready! I am waiting for MS to come back to me, it is the Marketplace Process. Any changes they may desire will be implemented also on the SimMarket release, hence the wait. Hopefully no more than 2 weeks from now.
Ah ok, does it take longer also at Simmarket in that case … thanks for the info Mario.
This looks truly fantastic. I am really impressed and happy I will be flying it soon.
What a fun little aircraft! And I don't think the textures are that bad… There's a bit of distortion on the glass at times, but I can live with that. (I also wish there was a wing leveler or rudimentary heading-only autopilot, but I wish that about a lot of things…)
Everything I read about this described it as "a steal" – and that's definitely the case. A ton of quality for the exceptionally low price.
That may take up to 16 weeks. There is a massive backlog. I got it from SimMarket, There is no way to update it at SimMarket first?
Can you update it on SimMarket, then do another update on SimMarket once the Marketplace asks for changes? Other developers are updating on SimMarket multiple times a week, so updating it now and then again after MS gets back to you is no big deal.
But it would be GREAT for us!
Severeeno, do you refer to the partnership application? I indeed have done that MONTHS ago. Currently, MS already have the aircraft, they have to come back to me with eventual comments/issues, and localization file. I do not expect this to take 16 weeks, we will be at Sim Update 8 or even 9 by then … or do you actually have experience wth this step taking 16 weeks? (please please please, tell me no
)
Also replying to MojaveHigh2379 that could be a good solution. If things are as dire as discussed just above!
Just chiming in to say that as another SimMarket purchaser I'd love if we could get the update (if it's ready) there without waiting on MS. They take so long to actually push out updates which is why I generally don't buy from the Marketplace unless forced to such as with Carenado. Either way, tank you and I look forward to the update!
We talk about Simmarket Mario, actually not over the Marketplace.