Click here to read the most recent Development Update:
Please use this thread for feedback and discussion.
werent we supposed to get a trailer today?
I'm fairly sure the trailer will air on the Xbox E3 conference in a couple of days. The Development Roadmap is often not very precise when it comes to dates.
TBA probably refers to the trailer itself rather than the release date. It was probably put in there because it's releasing the same week as today's Development Update.
The same happened with a few patches in the past and has gotten lots of people confused.
Where is trailer TBA …?? , I don't like being so lied to… Again and again…
Or "To Be Announced" later today? All sorts of possibilities.
I'm just going with what the information in past roadmaps turned out to be.
Not saying there aren't other possibilities, but it's very unlikely they will be announcing anything later today as it's getting late in Seattle.
OMG!!! DX12 Started!!!
Nvidia DLSS
P L E A S E ! ! ! ! ! ! !
Yes this game needs DX12 \ DLSS real bad like no other game ever made.
Why? People are having problems because they are CPU limited. With DLSS more people will become CPU bottlenecked.
If you have bad performance chances are you need a better CPU, not DLSS because that will only worsen things.
I don't have any problems at all with everything under the moon that i have , 10900k rtx 3090 ftw ultra,
why not DLSS it helps all setups cpu has nothing to do with DLSS, and for your case just don't use it.
A better CPU is not the key to this. I upgraded from a low end i5 8th gen to now an i7 10700k and it did not make a big difference. When core usage is better distributed possibly with DX12 that should make a difference.
Its been told most people are cpu bottlenecked. My case the GPU is the main bottleneck.DLSS would certainly bump performance as its driven by GPU. Doubt there will be any CPU bottleneck.
LOL it started ages ago and was slated summer 2021
Now it just says 2021 so probably delayed.
Actually most users are GPU-limited. Even at 1080p, an RTX 2080 can be almost maxed out in most cases with a modern CPU.
The DirectX 12/Xbox patch will relieve the main thread, and ray-tracing will destroy pretty much any current-generation GPU. If not now, DLSS will be very much needed at some point.
Wow look at the top issue and its probably due to the H135 that has given people a taste ( thanks Hype Group!).
The heli community has copped flack every-time we ask for some priority and I am sure I will get the "be patient blah blah blah " on this post but I shall ignore you.
This list just proves to me Asobo should have released helicopters with this sim straight up or at least introduced by now and at least !
What annoys me is it is no 1 and not even started! if it was so hard how can it be completed by 2022 if it isnot even started?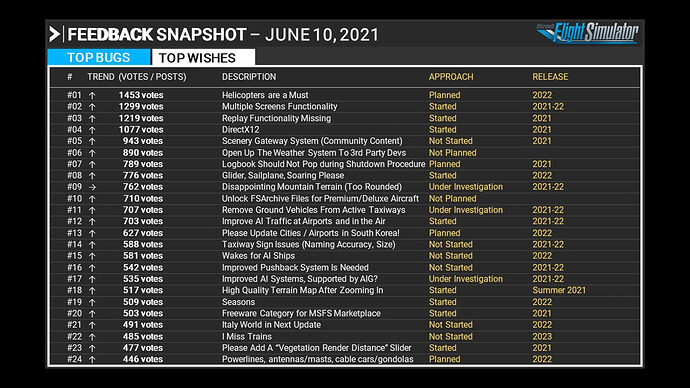 The Wishes Feedback Snapshots have been posted before the Bugs Feedback Snapshots for some reason which caught me out initially. Hopefully this was just a glitch and the order will revert back to Bugs before Wishes in future Dev Updates.
Wasn't SU5 supposed to be released at the same time as WU4?