Hi @MiniGolf3388757,
That spreadsheet is purposely read-only with only me being able to edit it. The registration form (linked below) should be usable by everyone without needing an account.
Oh man I am stupid
don't fly and chat

Registred now… and continue flying, thank you
@SeedyL3205 hi Seedy, would you mind changing my Aircraft (Quax00001) to the Pipistrel Virus please?
Thx.
@QUAX00001 Done.
For folks looking to take in the local language and music while in the cockpit, don't forget to download and turn on the free Jumpseat Radio app
Good luck to all!
For those of us who will be unable to race in a leg after posting a time in round one (or two, or three), will we be getting the 96 hour time applied to our row in the spreadsheet automatically or will we have to register for each event as a 'no-fly'?
Yes, an automatic 96:00:00 "completion" time will be applied to any unfinished legs for everyone who completes at least one event of the Endurance Race Series.
The registration deadline is one week from today! Don't forget to sign up in time if you're intending to participate in this community charity event!
For anyone looking for some regionally-appropriate cuisine while you're flying the Paris-Dakar Rally, Chief Flight Attendant FactualGull has prepared the following menu consisting of a French breakfast, a Spanish lunch, and a Moroccan dinner. Feel free to prepare these dishes yourself or order in from local restaurant(s) serving these dishes.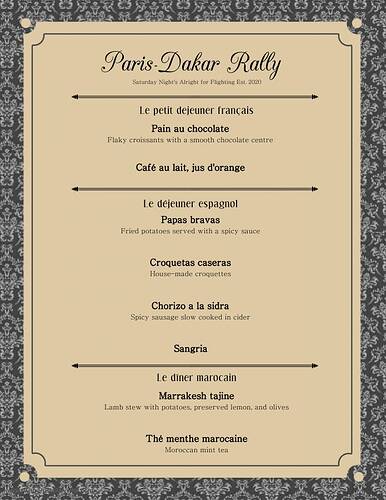 Updated the OP with this info:
Prize
MSFS Community Manager @Jummivana has agreed to generously donate one (1) Orbx Landmarks Paris City Pack to the winner of the event! Thanks so much for your support, Jayne! <3
Hi everyone,
I'll be hosting a live Paris-Dakar planning session on my Twitch channel on Thursday, June 24 starting at 8pm ET / 5pm PT / 0000Z to discuss this event. I'll be reviewing the event rules, responding to questions from chat, and discussing some different flight planning tools available to sim pilots that you may want to use for this race. Following the Q&A, feel free to stick around for a multiplayer group flight. See you then!
Reminder that the registration deadline is 2359Z today. Be sure you complete your registration form if you're planning to race in this event next week.
SeedyL3205 I would also like to change my registered bird to the Pipstrel Virus. Thank you.
Cyclone62
Sure thing. I've updated your registration, @Cyclone62.
Hi everyone,
The registration deadline has passed, and sign-ups are now closed. Thanks to the 66 pilots who signed up to compete; this number surpassed the number of people who registered for the previous Endurance event, the Indian-Pacific Wing Race!
Please confirm your registration status at the link below. If you'd like to change your plane, send me a message in the next few days, and I'll update your registration.
I will also create a new "Paris-Dakar Race Day and Results Thread" sometime in the next few days where I'll link everyone who is streaming their run, post my Discord server where pilots can hang out and chat with each other during the race, and where everyone will post their completion time when you finish the event.
Good luck to all our racers, and for those who were unable to commit to this ~20 hour event, I certainly hope you are able to watch one or more of the livestreams and fly along with the pack for a portion of the race. And, of course, we want the big winners of this to be our charitable cause, Médecins Sans Frontières (Doctors Without Borders), so please consider making a donation at our campaign page linked below. Even $5 or $10 helps get us closer to our fundraising goal of $2500! <3
Hi everyone,
Please see this thread for important Race Day information, including how to submit your completion time once you finish your run.
Last time, which was my first, I did SO much planning, spreadsheets, everything.
This time it's literally 3 lines at one end of an envelope and a quick plan in Little NavMap
But I guess that's what's happening when you have summer vacation and think you have all the time in the world to plan. Suddenly it's the day and you go with what you have.
Good luck, everyone!