Thanks but it should be here in the 1st place was the point I was trying to make, remember when people were whining about night time lighting not looking right, so they just randomly added more lights to make it better. Which made it worse for some of us. Fly lightpost level down a road and night and enjoy the 70's disco light show ;p
Downloaded and re-installed MSFS for the umpteenth time.
Tried out the new Aviat Husky! Pretty fun.
Flew from Portland-Hillsboro (KHIO) out partway to Mt Hood, then past Hood River up to the Columbia and landed at The Dalles (KDLS).
Using customized version of KHIO which fixes the runways and taxiways from:
Taking off from KHIO:

Heading east toward Mt Hood:

Enjoying the forest moon of Endor:

Passing Mt Hood on the west side:

Following Hood River towards the Columbia River:

Turning around to approach runway 31 at KDLS:

Parked next to the gas truck. Safe!
Nice little bush plane, and the avionics are legible and usable. I like it!
Enjoying the Cessna 172 with skis in Alaska.
And that landing was so much fun, that thing was first going uphill and gliding back down after coming to a halt…
Impressive landing gear physics - just like real snow!
Precise inspection inside the hangar where it´s warm and cozy…

This weather is maybe a little bit too harsh, back to live weather - I just wanted to see some snow in Alaska first.

I am not sure if I can ever enjoy another flight sim after enjoying THIS graphics and shader and lighting quality…

This weather formation looks kinda dangerous, better land and build up the tent now on the foot of that mountain instead of higher up.

The cool-looking snow landing gear looks PERFECT with all these steel-ropes and stuff.

The Cessna 172 is normally not equipped for icing conditions, but this is a special version with windshield defroster.

Getting ready for landing.

The first snow landing with impressive snow effects!

And after gliding uphill for some time and braking, the Cessna glides back downhill again a few meters
PERFECT realism these skis, real gliding effects and also downhill-gliding (backwards or forwards) possible.

This topic goes to page 2 after an hour…
Zlinn Savage over Gibraltar, harbour… early morning, few clouds…
First time I checked the trees… Galapagos Islands is good for that ! to have a real comparison, I needed Medium level screenshots… but I did not save many medium screenshots, so it's difficult to compare… but… first some good news,
May 9 screenshot, I took this one at Medium level

Today, Medium level… High and Ultra don't differ… as expected… but there's a better tree distance…

Also, notice that the trees (or tree density, color, anti-aliasing ?) are improved as well. On flight altitude 300Ft that is…
On short distance… I see the same issues we had before: trees against the blue sky pixelate… on below image (both now, SU5, Medium), the only difference is a few meters altitude… when you go lower… the tree tops reach the blue sky… and the screenshot is a nogo…
I'd really be curious to see the XBox-S and XBox-X results at the same spot… if someone could provide that please ? here is the location, it is north-north east of Isabela SEII, about 10 minutes with a C172:
tried to recover it, but the file size resulted in it being totally deleted, not in the trash.
I have a few vids on my channel, the Melbourne - Sydney at sunrise vid has my horrible commentary.
Surfin' down Mt St Helens
We spent a couple of hours playing around with different settings in the User cfg after watching Overkill's latest Vid on You Tube.
This was a protracted trial and error process with each proposed change being tried and any positive effect noted. Eventually we made 5 changes to the User cfg which were,…
Raytracing 1
Terrain LoDFactor 4.000000
Objects LoDFactor 4.000000
ColourGrading 0
Filmgrain 0
Please don't forget to make sure that the alterations are preserved by Ticking Read Only in Properties otherwise MFS will restore them to default next time the Sim is started.
Thanks to this typically informative Video + lots of helpful advice from the Community we implemented the changes and made some Test Circuits flying a stock Cub Crafter as each change was made.
When we were content with the result of the changes BCP felt confident enough to start making Screen Shots.
Well it's almost 23.20 GMT and the Collies are sitting here watching BCP make her Screen Captures.
Time for some Music to Fly by which includes some incredible film of the sort of Cloud Scapes that we're hoping to enjoy in our beloved Sim.
Good night Guy's and thanks so much for all your help today.
Called the ISP about my modem rebooting at 1445 everyday 'Well your connected now sir' - 'Well I wasnt connected 5 min ago arrrrrr'. let me transfer you to tier2 … this one was even dumber. So I treked down to the BestBuy stood around for 10 min waiting for a salesman to become available. Told him what I was looking he was clueless ROFL but said wait here I'll find someone who knows more. Stood around for another 10 min and he never returned. So I grabed the other salesman by the nosehairs and drug him over to the cable modem section and told him what I was looking for. On the way out I talked to one of the Geek Squad people who confirmed what I had suspected about cable modems after doing my own research.
Got home, set it up, OMG where did all the bldgs and houses and cactus come from LOL …what a difference went form a docsis3.1 puma based modem to a docsis 3.0 broadcom based modem and seriously what a difference it doesnt even look like the same sim anymore.
Did you know there was grain on the dashboard of the planes lol and so many other little things that have just magickly appeared since I made the downgrade.
See those houses on the beach there, I have never seen those in that spot before ever WOW
And then I came here to GLOAT!!! ROFL! Did you know when you land in the dirt that you actually have dust kicked up by the wheels ROFl I have never seen that before either.
Tested to see how live live information is I set up at Sodus Points sunset was at 8 26 so I flew from Williamson Sodus to land at 8 15 on Lake Ontario right by the Bay in a g1000 c172 amphib and saw the sun actually set and it's really on time like what it says (great job Asobo)
That's the improved version, this is what I got at release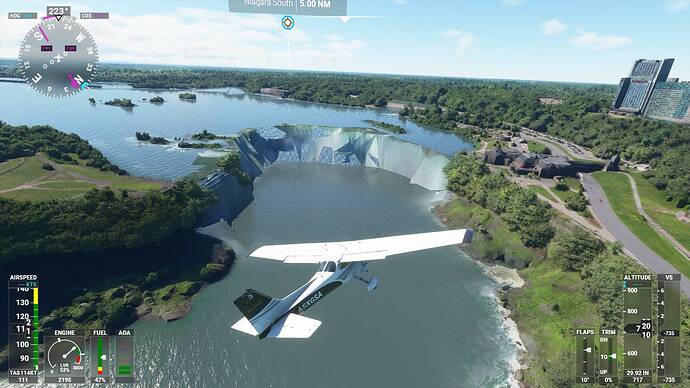 The American falls looked slightly less bad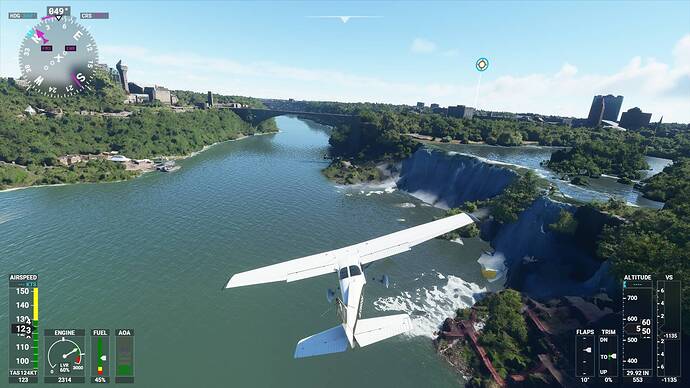 Anyway, without the spray it will never look right
Around Sandusky Put-In-Bay after I tried finding cedar point again its just not there but boy dont that shot look Sexy ;p
Orlando Airport No Disneyland either but look the terminals are missing: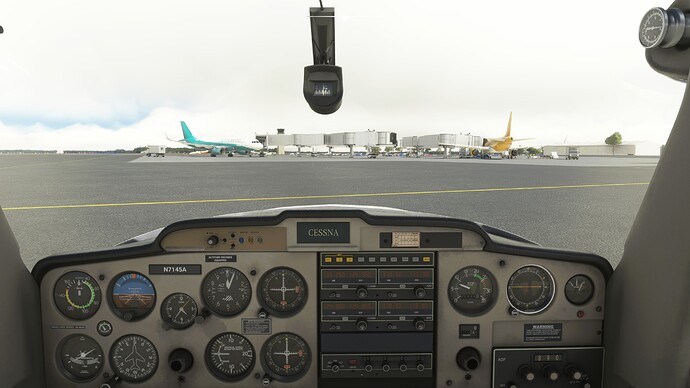 And this is coming up the Niagara River I like the cars running under the bridge I guess they save alot of wear and tear on the bridge deck this way ROFL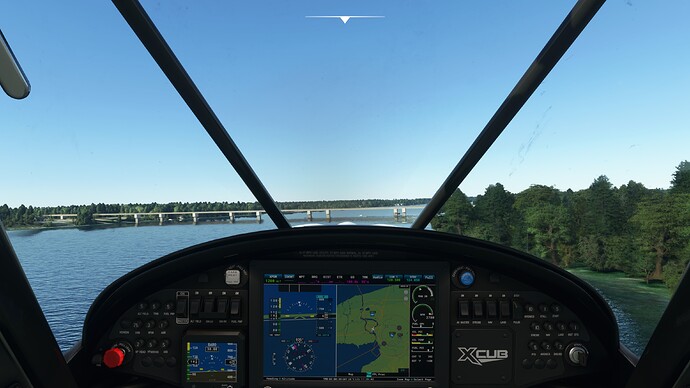 This is the 1st night in a long time that I actually dont want to goto bed and fly some more
I flew from Tiksi (UEST) to Svalbard (ENSB), polar flight

Very quiet around here
Cool approach to Svalbard, runway is a bit bumpy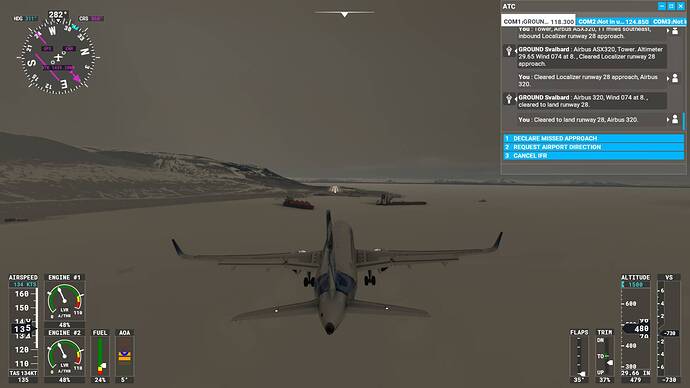 Nicely modeled airport thanks to the Nordics update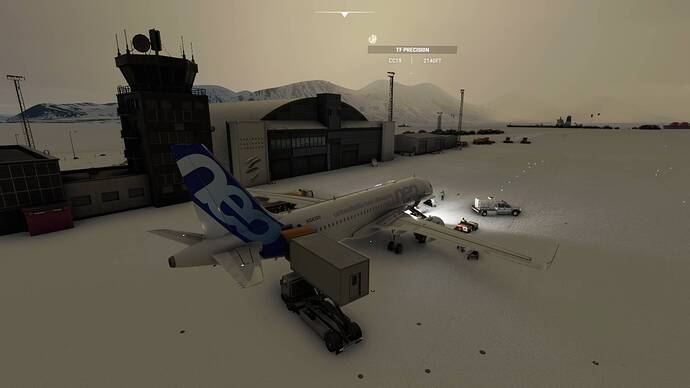 Despite it being light (and very bright) all flight, it logged 2h 45 of night time flying and 0 take offs, 0 landings. The flightplan went screwy as usual when I entered the approach, assigned to use Loc 28. When I entered it in the onboard computer it routed me back to the start and IFR flight tracking was cancelled. I flew the rest myself, useless computers.
Next up, Alert, Canada, only 700nm from here! That's a quite bumpy (undulating) dirt strip in the game, not sure if my A320 is going to survive that.
Mackinac island to Beaver island was a successful flight in my 152 Great Lakes loop
What did i do in MFS today?
Lets think about it, …, hm, …
Nothing, because this game is broken since SU5.
I cannot fly anymore.