Are we going to continue to have zero feedback, communication, reciprocation with MS and Asobo?
Strangely enough I just took off from UUEE and it has correct direction/speed. 360/02 at the moment of T/O (that's correct according to METAR), 270/02 at FL 100, climbing to 320. Urgh I think that's not really correct after all, looking through weather data now.
Yeah I noticed the weather was accurate for me in North America, but when I relaunched the SIM it was wrong (Clear skies vs cloudy weather) Seems hit or miss.
Everything else has been rock solid, but this is kind of a big one for me.
Live at Orlando Sanford KSFB. Winds are ripping from 150 at 22-31kts with a 5k feet cloud deck and thunderstorms pushing through.
Also WTF is this terrain?
Currently flying through Hurricane Genevieve in the Citation. Everything on weather radar is purple around. The vertical wx radar however shows a tiny layer of purple, which seems to be only around 500-1000ft in height, at 10 000ft. Everything clear above and below on wx radar.
I'm at 10 000ft, right in the middle of a bunch of purple cells according to the wx radar, flying in clouds, but the ride is completely smooth…winds at 3 kt, no precipitation. Clouds from 0ft to 40 000ft.
Well the clouds in the ground issue is present in USA using live weather

…Currently flying just north of Atlanta. Very disappointing. Expected the release build to have this fixed. Will send yet another bug about this through Zendesk.
Reporting here or to Zendesk? Only Zendesk counts
I've noticed that no matter where I go, the live weather is always clear skies for me. I've selecting numerous places across the globe which were under cloud cover. It only rendered clouds once… In Halifax. Hope it gets fixed
Yes this is very poor. The discovery series advertised realistic weather. Purchased the Sim and this is obviously not the case.
Surely this deserves a response from the developers. In fact I am surprised they have not jumped in here considering people's concerns.
Problem existed in the alpha and I assumed this would have been fixed for release.
When they said weather was on the backlog we should have known it was not going to work. The fact that nobody from the team has acknowledged the issues also is disturbing. Why not just come out and say it doesn't work and won't for a while.
I actually tweeted at meteoblue to see if they would comment. 99% sure they won't respond but figured it was worth a shot.
There is a bug when leaving a flight and starting a new one Live WX is screwed up… when rebooting the sim it's back for one flight… Then repeat for every new flight…
Going to report now at zendesk
You guys HAVE TO KEEP SENDING THIS STUFF TO ZENDESK!! The more we keep pressure on, the more they will realize there is an issue to be addressed sooner than later. Just send EVERY DAY if you have to!
Make noise on zendesk, twitter, facebook, on here, just wherever. Its not just the weather that's busted with this game. With how borked the release has been and how many issues are being touted about its becoming a laughing stock.
DEFINITELY all the issues that are major need to be addressed and pressured for sure!
This can't be emphasized enough. Issues have to be logged, that helps them with the prioritization and lets them know what is most important to the community…
To all and whoever flagged my comment; truth hurts doesn't it?
Yesterday I flew some sectors in UK / Ireland and the winds were reflecting the real life conditions. Over Indonesia today, while the ground / lower winds aren't much, the upper-level winds are matching to Meteoblue
The numbers are on the money -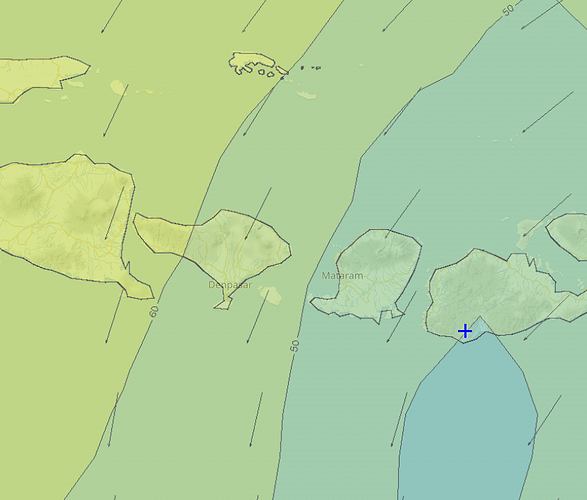 Northerly winds at about 55km/h , which is about 29 kts !
YES I know this! everyone knows this!!! This weather issue has been reported to Zendesk ad nauseam