Like others here, I updated my sim yesterday to the latest world update. I wanted to test the sensitivity of the new "offscreen caching" option added in response to the last Sim Update. I cranked up the terrain and object LOD to 9 in the UserCfg, set the new "offscreen caching" option to Ultra, and this is the result: 22.5 GB of total VRAM usage sitting on the runway at KLAX. Interestingly enough, once airborne, VRAM usage dropped down to a more "reasonable" level of ~15 GB of usage.
At first glance, it seems pretty apparent to me the new offscreen caching option is loading the offscreen assets into VRAM, if available. Before this latest update, the offscreen assets were swapped in and out of memory depending on what was within the viewing window. This unfortunately led to some severe stuttering when panning and high LOD values >4. After this latest update, the constant swapping is significantly reduced thanks to the new offscreen caching option, but at the cost of significantly increased VRAM usage.
I'm curious to see how other systems with lower VRAM capacity, even the 3080s, handle LOD = 9 and offscreen caching option set to Ultra. Is this offloaded into system memory when VRAM limited?
System specs: Ryzen 5950X, Asus TUF 3090, 64 GB 3600 RAM. Resolution at 3840x1600 with render scale at 110-130%. All in-game graphics settings set at Ultra, including 8x8 texture supersampling and 2048 shadows.
LOD = 9: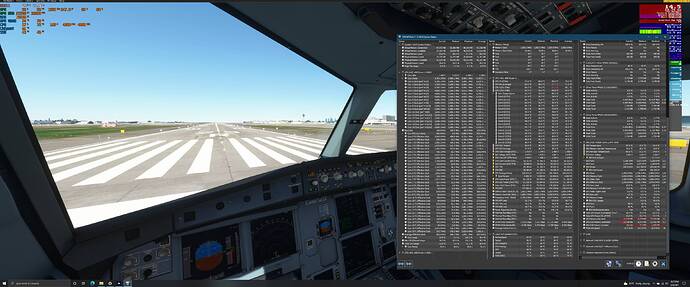 LOD = 6: