Guided Switzerland Tour (Leg 1)
Dear fellow pilots,
My nickname is Steeler, I have become an enthusiastic hobby pilot from Switzerland and I would like to tell you about it. Together we will fly through the beautiful scenery of Switzerland and you will learn about Switzerland's history and William Tell - hence "Tell Tours"
For now I have planned three legs in total, covering as much as possible of Switzerland, and this will be the first one.
The event is open for anyone who can bring up an airplane into the air and keep it there for a prolonged amount of time. The goal is to enjoy the beautiful scenery, get to know some interesting fun facts and enjoy flying together.
In a Nutshell
| What | Value |
| --- | --- |
| When | Wednesday (Dec 16 2020), 1930Z (2030 Zurich local time) |
| Duration | 2 hours (approx.) |
| Server | West Europe |
| Voice Chat | On the official FS 2020 Discord event channel: https://discord.gg/msfs |
| Aircraft | Cub Crafter X Cub (cruising speed will be between 90-100 knots) |
Fight Plan
Tell Tours - Zurich to Locarno.pln (10.3 KB)
FLIGHT DETAILS
We will be starting from Zurich airport (LSZH), the biggest airport of Switzerland. After a quick tour around Zurich we will be heading towards Lucerne, famous for its pitoresque "Kappelibrücke" (small wodden bridge).
A quick break (landing) is done at Buochs (LSZC), after which we will be heading towards the Alps, flying over the famous St. Gotthard Pass (fasten your seatbelts: it might get windy). On the way you will learn about William Tell and how the people of Uri cheated the Devil.
The tour will be finished by a beautiful flight through the Blenio Valley. The first leg will end in Locarno (LSZL) in the Ticino, the Italian speaking part of Switzerland.
PLANNING
Starting airport is at Zurich (LSZH). With the provided flight plan below you will start on runway 28. Zurich is a busy airport, so please vacate the runway and taxi over to the nearby parking on your left.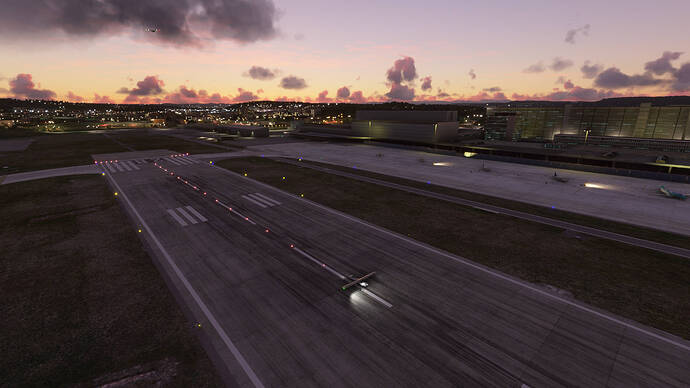 It is advised in this flight to turn off both aircraft collisions and terrain collisions. If you do crash, you can use "slew" mode to join the pack.
Please prepare and load your airplane 15 minutes prior to the event. The default 50% fuel should be sufficient.
MULTIPLAYER SETTINGS
Please adhere to the following settings so you can see everyone / be seen by everyone.
| Variable | Setting |
| --- | --- |
| Server | West Europe |
| Multiplayer | All |
| Live traffic | As desired |
| Weather | Few Clouds |
| Time of day | 0800 local for great lighting |
COMMUNICATION
To communicate with others, a voice channel on the "Official Microsoft Flight Simulator Discord" at https://discord.gg/msfs will be available to join.
FLIGHT PLAN
In order to fully enjoy the scenery we will be using an Cub Crafter X Cub and cruising between 90 - 100 knots, but you are free to choose any aircraft capable of cruising at the same speed.
A .PLN file is provided by the following link: Tell Tours - Zurich to Locarno.pln (10.3 KB)
To use the flight plan, follow these steps:
Download the flight plan to a easy-to-remember location
Open MSFS
Go to the globe
Click "Load/Save" on the bottom of your screen
Click "Load"
Navigate to the downloaded flight plan
Click load.
While I set the waypoints such that it is theoretically possible to fly the entire leg with autopilot (at around 100 knots) we will do some manual "sight-seeing" flying at selected locations.
Optional Scenery Add-Ons
We will visit the following locations. Free scenery add-ons are available which may optionally be copied into the "Community" package folder of FS 2020 before the flight:
LET'S FLY
This is my first guided fly-in event. Depending on the people and general mood I will cut back on my "in-flight commentaries", but I will try to prepare some fun facts and information about the visited location's history beforehand.
This is meant to be a fun and informal flight. Everybody is welcome, no matter the amount of experience.