When deleting ALL wind layers, no new wind layer can be added.
Workaround is to switch to live weather and back.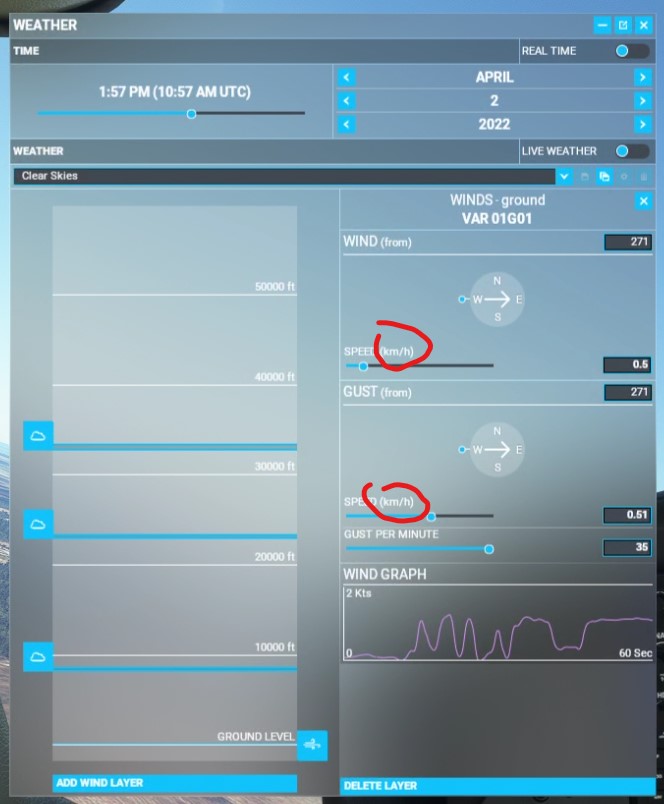 Why is windspeed in km/h in the weather menu? Using hybrid units windspeed should be in kts…
Besides, the windspeed is wrong! 1 kt = 1.852 km/h, 10 kts should be 18.52 km/h but when 18.52 km/h is entered into the weather menu I get a wind of 36 kts in the sim! So it seems like its m/s and not km/h.
There seems to be a lot going wrong when in comes to windspeeds, to clarify:
When using imperial or hybrid units:
Windspeed in the world map should be in kts
ATIS and tower should be in kts
Weather menu should be in kts
When using metric units:
Windspeed in the world map should be in m/s
ATIS and tower should be in m/s
Weather menu should be in m/s
In all cases, ATIS and TWR wind direction should be magnetic rounded to the nearest 10 degrees. It seems like magnetic variation is taken into account but the wind direction is not rounded to the nearest 10 degrees. You will NEVER get a wind of 261 degrees, 10 kts from tower before landing…