EDIT 19/12/2020: Check out the thread about the latest version: MSFS Mobile Companion App v1.3 Released - Added FLC, lights, deicing, GPS track line [Freeware]
EDIT 21/11/2020: Check out the thread about version 1.2: MSFS Mobile Companion App v1.2 Update - Added COMs and more [Freeware]
I'm excited to announce that update 1.1 to MSFS Mobile Companion App has been released! Here are is the list of new features/fixes:
Improved AP functionality. ALT AP can now be used with current or set altitude.
Added autothrottle toggle.
Added NAV1/NAV2 source switch for AP and/or CDI.
Added ADF direct frequency tune option.
Improved UI for the NAV tab.
The application doesn't crash when launching before MSFS.
Various other minor bug fixes.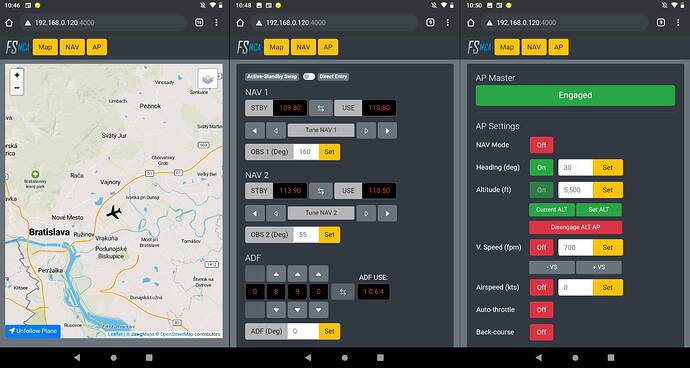 Where can I download the app?
You can download the MSFS Mobile Companion App for free on GitHub or flightsim.to
Important notice for new users: Don't install the app on your mobile device! Download and run it on your PC. This creates a local webserver to which you connect via an IP address. It works on Android, iOS, Windows or Linux. To find out more about this app, visit the GitHub project website.
Enjoy the app and let me know your feedback!