Please tag your post with #pc and/or #xbox. #pc
Are you on Steam or Microsoft Store version? MS Store
Are you using Developer Mode or made changes in it? No
Brief description of the issue: After installing marketplace airports in game (no custom or comminity content is added, just the marketplace ones) the ground services are not available anymore, except jetways. In some of the airports which include a customized "AirportServices" folder services are working well. The services are not available because vehicles and marshallers are not spawned in the parking slot. While only official GOTY content and Reno air races DLC are installed then ground services work well in all airports.
Manually removing the "AirportServices" folder from those marketplace airports that include such folders does not solve the issue either. I´m not a scenery developer so I can´t figure out what is causing the issue.
I´m using premium deluxe edition + Reno DLC as official content basline. List of all installed airports is attached at the end of the post. I don´t have any ground services addons like AREX or any custom content in the community folder, just the official content and the one from marketplace.
Provide Screenshot(s)/video(s) of the issue encountered: See example of the issue in LEMD airport with A320Neo and another example of one airport having customized "AirportServices" folders, where AI is having a pushback available but not player´s A320Neo.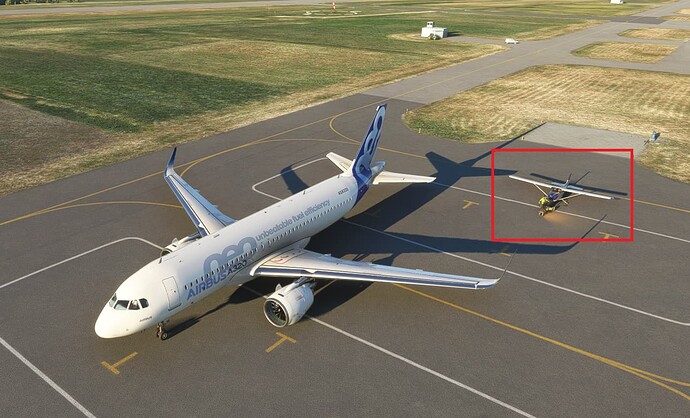 Detail steps to reproduce the issue encountered:
Spawn in any default airport at a gate with an airliner, or spawn at a parking slot with a GA aircraft.
PC specs and/or peripheral set up of relevant: Not relevant.
Build Version # when you first started experiencing this issue: v1.21.13.0 (GOTY edition)
Content of scenery library (GOTY + Marketplace) is attached below. Anything below "Asobo-modellib-airrace-reno" line is the marketplace content. I added a blank space to clearly separate the official content from the marketplace one in this post:
<Content>
	<Package name="fs-base-ui-vr" active="true"/>
	<Package name="fs-base" active="true"/>
	<Package name="fs-base-ai-traffic" active="true"/>
	<Package name="fs-base-nav" active="true"/>
	<Package name="asobo-modellib-buildings" active="true"/>
	<Package name="asobo-airport-vnlk-lukla" active="true"/>
	<Package name="asobo-airport-kord-chicago-ohare" active="true"/>
	<Package name="asobo-modellib-airport-generic" active="true"/>
	<Package name="asobo-modellib-props" active="true"/>
	<Package name="asobo-liveevent" active="true"/>
	<Package name="asobo-airport-vqpr-paro" active="true"/>
	<Package name="microsoft-discovery-pennine" active="true"/>
	<Package name="asobo-airport-seqm-mariscal-sucre-quito" active="true"/>
	<Package name="asobo-airport-lflj-courchevel" active="true"/>
	<Package name="asobo-airport-tffj-gustaf" active="true"/>
	<Package name="microsoft-griffith-observatory" active="true"/>
	<Package name="asobo-airport-ksfo-sanfrancisco" active="true"/>
	<Package name="asobo-airport-wx53-bugalaga" active="true"/>
	<Package name="asobo-airport-omdb-dubai-intl" active="true"/>
	<Package name="asobo-airport-mrsn-sirena-station" active="true"/>
	<Package name="asobo-airport-lpma-madeira" active="true"/>
	<Package name="asobo-airport-sbgl-riodejaneiro" active="true"/>
	<Package name="asobo-airport-kjfk-new-york-jfk" active="true"/>
	<Package name="asobo-airport-yssy-sydney" active="true"/>
	<Package name="asobo-airport-lxgb-gibraltar" active="true"/>
	<Package name="asobo-airport-lowi-innsbruck" active="true"/>
	<Package name="asobo-airport-lemd-adolfo-suarez" active="true"/>
	<Package name="asobo-airport-tncs-saba" active="true"/>
	<Package name="asobo-airport-lfpg-paris-charles-de-gaulle" active="true"/>
	<Package name="microsoft-discovery-berlin" active="true"/>
	<Package name="asobo-airport-spgl-chagual" active="true"/>
	<Package name="asobo-airport-ksea-seattle-tacoma" active="true"/>
	<Package name="asobo-airport-lfcs-saucats" active="true"/>
	<Package name="asobo-airport-ksez-sedona" active="true"/>
	<Package name="asobo-airport-mhtg-toncontin" active="true"/>
	<Package name="asobo-airport-klax-losangeles" active="true"/>
	<Package name="asobo-airport-keb-nanwalek" active="true"/>
	<Package name="asobo-airport-rjtt-tokyo-haneda" active="true"/>
	<Package name="asobo-airport-kmco-orlando" active="true"/>
	<Package name="asobo-airport-ktex-telluride" active="true"/>
	<Package name="asobo-airport-nzqn-queenstown" active="true"/>
	<Package name="microsoft-airport-voloport" active="true"/>
	<Package name="microsoft-discovery-mecca" active="true"/>
	<Package name="microsoft-airport-edvk-kassel" active="true"/>
	<Package name="microsoft-airport-lsza-lugano" active="true"/>
	<Package name="microsoft-discovery-freiburg" active="true"/>
	<Package name="microsoft-airport-lszh-zurich" active="true"/>
	<Package name="microsoft-discovery-helsinki" active="true"/>
	<Package name="microsoft-airport-edja-allgau" active="true"/>
	<Package name="microsoft-discovery-mountcook" active="true"/>
	<Package name="microsoft-airport-lszo-beromuenster" active="true"/>
	<Package name="microsoft-discovery-singapore" active="true"/>
	<Package name="microsoft-discovery-monument" active="true"/>
	<Package name="microsoft-airport-eddp-leipzig" active="true"/>
	<Package name="asobo-airport-eidl-donegal" active="true"/>
	<Package name="asobo-airport-cytz-billy-bishop" active="true"/>
	<Package name="asobo-airport-heca-cairo" active="true"/>
	<Package name="asobo-airport-eddf-frankfurt" active="true"/>
	<Package name="asobo-airport-fact-cape-town" active="true"/>
	<Package name="asobo-airport-kase-aspen" active="true"/>
	<Package name="asobo-airport-eham-amsterdam" active="true"/>
	<Package name="asobo-airport-czst-stewart-aerodrome" active="true"/>
	<Package name="asobo-airport-fxme-maketane" active="true"/>
	<Package name="asobo-airport-huen-entebbe" active="true"/>
	<Package name="asobo-airport-knkx-miramar-mcas" active="true"/>
	<Package name="asobo-airport-kden-denver" active="true"/>
	<Package name="asobo-airport-egll-heathrow" active="true"/>
	<Package name="asobo-airport-c53-lowerloon" active="true"/>
	<Package name="asobo-airport-kcof-patrickafb" active="true"/>
	<Package name="asobo-vfx-staticmesh" active="true"/>
	<Package name="asobo-cameras" active="true"/>
	<Package name="asobo-jetways" active="true"/>
	<Package name="microsoft-japan-point-of-interest" active="true"/>
	<Package name="microsoft-airport-rjfu-nagasaki" active="true"/>
	<Package name="asobo-airport-rokr-kerama" active="true"/>
	<Package name="asobo-airport-rjx8-suwanosejima" active="true"/>
	<Package name="microsoft-airport-rjck-kushiro" active="true"/>
	<Package name="fs-base-coverage-map-japan-tin" active="true"/>
	<Package name="microsoft-airport-rjth-hachijojima" active="true"/>
	<Package name="asobo-airport-rors-shimojishima" active="true"/>
	<Package name="microsoft-usa-point-of-interest" active="true"/>
	<Package name="asobo-airport-kswf-stewartintl" active="true"/>
	<Package name="microsoft-airport-katl-atlanta" active="true"/>
	<Package name="microsoft-airport-kfhr-friday-harbor" active="true"/>
	<Package name="asobo-airport-kdfw-dallas-fort-worth" active="true"/>
	<Package name="asobo-airport-eg78-outskerries" active="true"/>
	<Package name="microsoft-airport-eghc-lands-end" active="true"/>
	<Package name="microsoft-airport-egpr-barra" active="true"/>
	<Package name="microsoft-airport-egcb-barton" active="true"/>
	<Package name="microsoft-uk-point-of-interest" active="true"/>
	<Package name="fs-base-coverage-map-uk-tin" active="true"/>
	<Package name="microsoft-airport-eggp-john-lennon" active="true"/>
	<Package name="microsoft-airport-lfmn-nice" active="true"/>
	<Package name="microsoft-france-benelux-point-of-interest" active="true"/>
	<Package name="microsoft-airport-ehrd-rotterdam" active="true"/>
	<Package name="fs-base-coverage-map-france-tin" active="true"/>
	<Package name="microsoft-airport-lfhm-megeve" active="true"/>
	<Package name="asobo-airport-biis-isafjordur" active="true"/>
	<Package name="microsoft-nordic-point-of-interest" active="true"/>
	<Package name="microsoft-airport-efva-vaasa" active="true"/>
	<Package name="microsoft-airport-ekrn-bornholm" active="true"/>
	<Package name="microsoft-airport-essa-arlanda" active="true"/>
	<Package name="microsoft-airport-ensb-svalbard" active="true"/>
	<Package name="microsoft-airport-edds-stuttgart" active="true"/>
	<Package name="microsoft-airport-edxh-helgoland" active="true"/>
	<Package name="microsoft-airport-lszr-altenrheinst-gallen" active="true"/>
	<Package name="microsoft-airport-lowk-flughafen-klagenfurt" active="true"/>
	<Package name="microsoft-franckfurt-point-of-interest" active="true"/>
	<Package name="microsoft-airport-edhl-luebeck-blankensee" active="true"/>
	<Package name="fs-base-coverage-map-germany-tin" active="true"/>
	<Package name="microsoft-germany-point-of-interest" active="true"/>
	<Package name="asobo-airport-krts-reno-stead" active="true"/>
	<Package name="asobo-modellib-airrace-reno" active="true"/>



	<Package name="4simmers-airport-0b8-elizabeth-field" active="true"/>
	<Package name="creativemesh-0u3-mahoney-creek" active="true"/>
	<Package name="inibuilds-airport-3mi2-foxislands" active="true"/>
	<Package name="creativemesh-johnson-creek-3u2" active="true"/>
	<Package name="simultech-airport-4r9-jeremiah-denton" active="true"/>
	<Package name="skytitude-airport-bitn-thorshofn" active="true"/>
	<Package name="justsim-airport-ebbr-brussels" active="true"/>
	<Package name="aerosoft-airfield-eder-wasserkuppe" active="true"/>
	<Package name="aerosoft-paderborn" active="true"/>
	<Package name="dcscenery-airport-edrp-pirmasens" active="true"/>
	<Package name="justsim-airport-efhk-helsinki" active="true"/>
	<Package name="maccosim-egcc" active="true"/>
	<Package name="uk2000scenery-airport-eggw-luton" active="true"/>
	<Package name="inibuilds-airport-egja-alderney" active="true"/>
	<Package name="inibuilds-airport-egkk-gatwick" active="true"/>
	<Package name="lndesign-eglk-blackbushe" active="true"/>
	<Package name="uk2000scenery-airport-egns-isleofman" active="true"/>
	<Package name="uk2000scenery-airport-egpe-inverness" active="true"/>
	<Package name="uk2000scenery-airport-egpf-glasgow" active="true"/>
	<Package name="aerosoft-airfield-egtp-perranporth" active="true"/>
	<Package name="vidandesign-billund" active="true"/>
	<Package name="flytampa-copenhagen" active="true"/>
	<Package name="4simmers-airport-eksv-skive" active="true"/>
	<Package name="simnord-aalborg" active="true"/>
	<Package name="justsim-airport-ellx-luxemburg" active="true"/>
	<Package name="onfinalstudio-enbn" active="true"/>
	<Package name="onfinalstudio-enbs" active="true"/>
	<Package name="onfinalstudio-enbv" active="true"/>
	<Package name="aerosoft-airport-enov-hovden" active="true"/>
	<Package name="onfinalstudio-ensk" active="true"/>
	<Package name="ironsim-vadso" active="true"/>
	<Package name="mmsimulations-eskn-skavsta" active="true"/>
	<Package name="dcscenery-airport-fd48-deepforest" active="true"/>
	<Package name="fsdg-fimp-mauritius" active="true"/>
	<Package name="flyt-airport-c16-frasca-field" active="true"/>
	<Package name="aerosoft-airport-gcgm-la-gomera" active="true"/>
	<Package name="aerosoft-airport-gcla-la-palma" active="true"/>
	<Package name="aerosoft-airport-gcts-tenerife-sur" active="true"/>
	<Package name="lvfr-kbdl" active="true"/>
	<Package name="rmstudios-airport-kbnl" active="true"/>
	<Package name="pilots-kcdk-airport" active="true"/>
	<Package name="zdesignstudios-meigsprofessional" active="true"/>
	<Package name="verticalsim-kclw" active="true"/>
	<Package name="dcscenery-airport-kcut-custer" active="true"/>
	<Package name="verticalsim-kdyt" active="true"/>
	<Package name="4simmers-airport-keka-murray-field" active="true"/>
	<Package name="verticalsim-kfay" active="true"/>
	<Package name="lvfr-kfll" active="true"/>
	<Package name="verticalsim-kgsp" active="true"/>
	<Package name="mpscenery-airport-khaf-halfmoonbay" active="true"/>
	<Package name="flightbeam-kiad" active="true"/>
	<Package name="axonos-kjac-jackson-hole" active="true"/>
	<Package name="4simmers-airport-klxv-lake-county" active="true"/>
	<Package name="lvfr-miami" active="true"/>
	<Package name="dcscenery-airport-kmne-minden" active="true"/>
	<Package name="lvfr-kmsy" active="true"/>
	<Package name="verticalsim-norfolkintl" active="true"/>
	<Package name="verticalsim-kpcm" active="true"/>
	<Package name="flightbeam-kpdx" active="true"/>
	<Package name="lvfr-ksan" active="true"/>
	<Package name="fsdreamteam-airport-ksdf-louisville" active="true"/>
	<Package name="rws-kstl" active="true"/>
	<Package name="sierrasim-syracuse" active="true"/>
	<Package name="justflight-airport-kszp-santapaula" active="true"/>
	<Package name="dcscenery-airport-ktbr-statesboro" active="true"/>
	<Package name="dreamflight-kteb" active="true"/>
	<Package name="verticalsim-ktpf" active="true"/>
	<Package name="xcodr-airport-kwys-west-yellowstone" active="true"/>
	<Package name="footagedesigns-lecd" active="true"/>
	<Package name="aerosoft-airport-leib-ibiza" active="true"/>
	<Package name="simultech-airport-lesu-seo-de-urgel" active="true"/>
	<Package name="footagedesigns-ordis" active="true"/>
	<Package name="flightbeam-lfbz" active="true"/>
	<Package name="fsdreamteam-airport-lfeq-quiberon" active="true"/>
	<Package name="tblfscenery-lfey-iledyeu" active="true"/>
	<Package name="tblfscenery-lffk-fontenay-le-comte" active="true"/>
	<Package name="tblfscenery-lffo-beauvoir-sur-mer" active="true"/>
	<Package name="tblfscenery-lffw-montaigu-saint-georges" active="true"/>
	<Package name="simultech-airport-lfhu-altiport-henri-giraud" active="true"/>
	<Package name="llh-airport-peyresourde-lfip" active="true"/>
	<Package name="tblfscenery-lfjb-mauleon" active="true"/>
	<Package name="redwing-lfkl" active="true"/>
	<Package name="mxidesign-lflb-chambery" active="true"/>
	<Package name="llh-airport-grenoble-lflg" active="true"/>
	<Package name="llh-airport-annemasse-lfli" active="true"/>
	<Package name="llh-airport-annecy-lflp" active="true"/>
	<Package name="azurpoly-airport-lfly-lyon-bron" active="true"/>
	<Package name="lmtsim-airport-lfma-aixlesmilles" active="true"/>
	<Package name="lmtsim-airport-lfmd-cannes" active="true"/>
	<Package name="fsx3d-lfmq-le-castellet" active="true"/>
	<Package name="fsx3d-lfmr-barcelonnette" active="true"/>
	<Package name="lmtsim-airport-lfmv-avignon" active="true"/>
	<Package name="lmtsim-airport-lfnf-vinon" active="true"/>
	<Package name="tblfscenery-lfoo-sablesdolonne" active="true"/>
	<Package name="azurpoly-airport-lfou-cholet" active="true"/>
	<Package name="tblfscenery-lfri-les-ajoncs" active="true"/>
	<Package name="fsdreamteam-airport-lfsb-basel" active="true"/>
	<Package name="aerosoft-airport-lftz-sttropez" active="true"/>
	<Package name="tblfscenery-lfvc-tranche-sur-mer" active="true"/>
	<Package name="aerosoft-lidt-trento-mattarello" active="true"/>
	<Package name="slv-airport-lipx-verona" active="true"/>
	<Package name="justsim-airport-lmml-malta" active="true"/>
	<Package name="pri-logk" active="true"/>
	<Package name="4simmers-airport-lanzen-turnau" active="true"/>
	<Package name="pri-logo" active="true"/>
	<Package name="aerosoft-airfield-loik-kufstein-langkampfen" active="true"/>
	<Package name="redwing-lsge" active="true"/>
	<Package name="redwing-lsgg" active="true"/>
	<Package name="mmsimulations-lsgk-saanen-gstaad" active="true"/>
	<Package name="redwing-lsgs" active="true"/>
	<Package name="redwing-lsgt" active="true"/>
	<Package name="simultech-airport-lspu-muenster-vs" active="true"/>
	<Package name="mxidesign-lszb-bern" active="true"/>
	<Package name="mxidesign-lszg-grenchen" active="true"/>
	<Package name="fsdreamteam-airport-lszh-zurich" active="true"/>
	<Package name="redwing-lszl" active="true"/>
	<Package name="simultech-airport-mycc-cat-cay-airport" active="true"/>
	<Package name="sws-scenery-okavangodelta" active="true"/>
	<Package name="dcscenery-airport-pacv-cordova" active="true"/>
	<Package name="rws-padq" active="true"/>
	<Package name="nss-airport-paen-kenai" active="true"/>
	<Package name="dcscenery-airport-pakw-klawock" active="true"/>
	<Package name="dcscenery-airport-papg-petersburg" active="true"/>
	<Package name="nss-airport-patk-talkeetna" active="true"/>
	<Package name="rws-paun" active="true"/>
	<Package name="dcscenery-airport-pawg-wrangell" active="true"/>
	<Package name="acodesignstudio-songshan" active="true"/>
	<Package name="lndesign-rk1-kavik" active="true"/>
	<Package name="dcscenery-airport-s20-goldendale" active="true"/>
	<Package name="4simmers-s69-lincoln" active="true"/>
	<Package name="lvfr-scel" active="true"/>
	<Package name="fsdg-seychelles" active="true"/>
	<Package name="lvfr-tjsj" active="true"/>
	<Package name="fsdg-stlucia-tlpc" active="true"/>
	<Package name="aerosoft-airport-tncb-bonaire" active="true"/>
	<Package name="awdesigns-tncm" active="true"/>
	<Package name="uk2000scenery-airport-commonlibrary" active="true"/>
	<Package name="rds-airport-uuml-severka" active="true"/>
	<Package name="justsim-airport-uuww-vnukovo-moscow" active="true"/>
	<Package name="wfscenerystudio-vhhh" active="true"/>
	<Package name="dcscenery-airport-x06-arcadia" active="true"/>
	<Package name="sws-aircraft-zenith701-wheels" active="true"/>
	<Package name="flytampa-lasvegas-city" active="true"/>
	<Package name="flytampa-lasvegas-airport" active="true"/>
</Content>