2 FPS at 76T. Bishop, Georgia
This is the first time that I have seen the FPS counter not agree.
MSI Afterburner = 2 FPS
FS2020 Dev = 16.1
Top right of screen = 3 FPS
Getting the slideshow.
Hit ESC key to pause
Hit Restart
Interesting. While the flight was reloading:
MSI Afterburner = 29 FPS
FS2020 Dev = 30.3 FPS
Top right of screen = 29 FPS
Restart completed. Back on grass at Bishop, GA
MSI Afterburner = 2 FPS
FS2020 Dev = 16.1 FPS
Top right of screen = 3 FPS
…What we see happening isn't the problem itself but rather the outcome of the real problem which is getting way more complicated due to the fact this outcome isn't reproducible by everyone.How is this even possible according to the facts reported???In the bottom line is the exact same code for crying out loud!!!Even if the code itself is broken shouldn't behave the same as broken for everyone using it??
SubtotalGuide81 seems to have found a temporary fix …
Works for me, but you need to stay in Dev Mode for it to work.
Btw. When transiting back from 2FPS to normal, I can see this immediate GPU and NETWORK load increase, whether CPU and MEMORY load remain at the same level, unchanged. Therefore I think that the root cause is somewhere at the thread management level, because before this transition, theads are like crazy switching. When switching from 2PFS to normal, threads are loaded in rather stable way and spikes on threads disappeared. What I've found very interesting is, that overall CPU load remains at the same level about 20% in my case: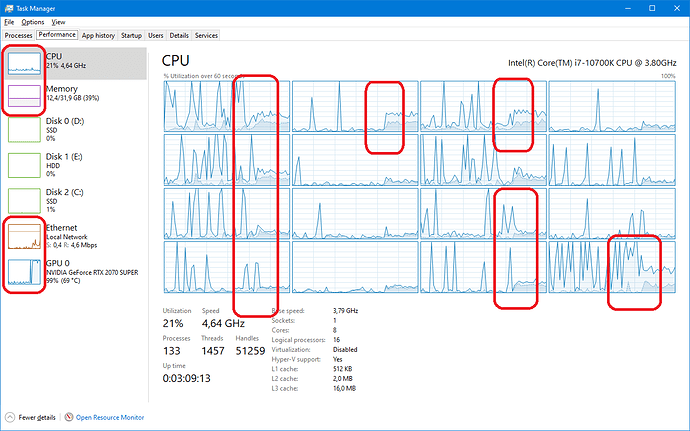 Good analysis.
Very interesting.
Thanks…
Another airport where I can reproduce this issue 100% of the time upon spawn is VILK.
Part of it is how you fly.
Once I get about about 5k feet - smooth as butter.
Problem is I mainly fly low and slow.
I had the stuttering problem the day the update was released on final approach to KMTM (Martin State, Baltimore) in the TBM . On about 2 mile final it became a slide show.
Today on long final to KPHF (Newport News, VA) in the TBM about 3 miles out the sim went into "slow motion" mode. GPU at about 60%, CPU 12%. All instrument indications what they should be but movement over the ground was extremely slow. It was also odd that it took over a minute for the landing gear to extend. I went to external view and it was actually moving that slow.
System isn't a slouch, Ryzen 9 5900X, 32G (2x16) 3200 Mhz RAM, EVGA RTX 3080 GPU
As far as I'm concerned the sim is unusable until a fix is released.
This is not encouraging… still XBox version has not been launched, with thousand of new users connecting online, and servers (upon which the simulator heavily depends) are struggling? Better play now, tomorrow might be "frosty the snowman" simulator.
On Saturday I flew a KJAC to KLAS leg in the WT CJ4. Had an instance of frame rate drop on the ground when looking outside my left and right windows which went away after 10 seconds.
Took off from RWY 01 and made a climbing right turn to get on course to first waypoint KICNE. At about 11,000 ft or about 3 minutes after takeoff major drop in FPS/stutters. Went from 45 FPS down to 10-15. Resolved itself after about 30-45 seconds. Rinse and repeat for the next 10-15 minutes of the flight.
The good news is I didnt have any issues on the Final into KLAS which would have been the worst time for it to happen.
But yeah, it's a thing that I definitely didn't see before the latest Sim Update 3.
The same problem in vicinity of RJRY airport.
Yep, just happened the first time for me. Between Malaga and Granada, Spain. Went from 45fps to 5fps for around 10 seconds.
i9 3090 32gb ram empty community folder most settings on ultra.
I think we can safely say the community folder has nothing to do with this issue. It seems to affect users regardless of what's in their community folder.
indeed , I tried many things : reinstall all the game (I have no addons , only 2 planes bought from offcial market place in game) , tried differents drivers , lower the detail ingame , etc etc…
still the same low gpu usage

I really hope an hotfix come soon , it s a major issue , I stop this simulation till the hotfix
Mentioned in another thread…
From Dev menu, unticking Options > Terrain > "Draw on Terrain" while in world map, and then spawning into 76T produces a smooth game in this problem area…
Interesting enough, after spawning in I turned on "Draw on Terrain" again and a new world terrain appeared (my plane bounced) and instantly the performance slammed down to 2-5fps.
So is the culprit in modified terrain of some sorts?
Unfortunately I also run out of options plus I definitely don't want to continue torturing myself with all this mess. After all it's Asobo's sole responsibility and their job to find the solution A.S.A.P. I - like many of us in here - already did my best trying to explain the problem and offer to the dev team everything possible to solve this. Until then I steer clear of MSFS and cancel all my plans towards buying anything related to it.Excuse me dear Asobo but it was your responsibility and must face the conciquences.There isn't any other way.