Have you disabled/removed all your mods and add-ons?
Yes
Are you using Developer Mode or made changes in it?
Yes
Brief description of the issue:
Note that in both cases the IN GAME setting for vsync appears to be already broken as it is ignored once DLSS3 frame generation is enabled. I dont think this should happen as nVidia released drivers to support vsync in conjunction with DLSS3 in Nov 2022 (driver 526.98).
However a workaround was possible in 1.29.30 of MSFS by setting vsync in the control panel. This worked well. see this image (note the 30fps here is being doubled to 60fps at the monitor and therefore is very smooth):
However a regression has occurred in 1.30.9 which means this workaround results in severe suttering:
The frametime is spiking massively after each frame: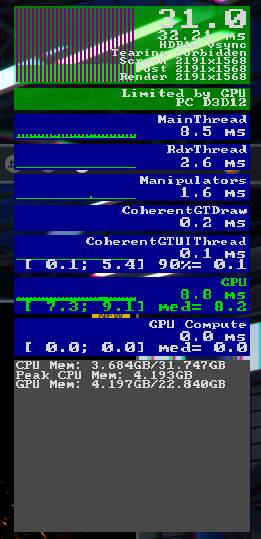 Please either fix the in game vsync or allow this workaround to be functional again
System: 12700K/RTX 4090.
Provide Screenshot(s)/video(s) of the issue encountered:
Detailed steps to reproduce the issue encountered:
PC specs and/or peripheral set up if relevant:
If on PC, Fault Bucket ID - Instructions here - Please type in just the Fault Bucket ID # rather than a screenshot for privacy reasons:
---
For anyone who wants to contribute on this issue, Click on the button below to use this template:
Do you have the same issue if you follow the OP's steps to reproduce it?
Provide extra information to complete the original description of the issue:
If relevant, provide additional screenshots/video: