I am flying it as I type this. Go to the justflight website. 'Scuse me, I have to land it.
Another vote for the Carenado Mooney. My favourite plane to date. Awesome plane for hand flying while sight seeing. You don't have too worry too much about it loosing airspeed while cruising around. Perfect combination of speed and endurance. A plane like this with some anti icing capabilities and I would be set.
Just Flight piper Arrow III. It is a nice plane in it's own way. Kind of wished I had waited a month or so and just bought the Turbo version. This plane is slow. Probably a good plane for training the fundamentals though. Definitely have to watch your climb rate. With the 66% discount I will most likely pick up the Turbo and fly the "T" tail. If I do that I don't see that I would fly the non-turbo version much at all.
Carenado Seneca V Nice plane, but those dam engine cowlings…I love twins. Still waiting for something maybe with some slightly lower set engines (engine cowlings). Still like to fly the plane though.
One of the things that I love about all these planes is a mix of steam gauges combined with the GTN750. What a perfect mixture of gauges to fly with. I started my Sim experience with the Garmins (TBM930 G3000) because they were easy to run and get me flying. But now I dislike them. Especially the G1000. They are all hard for me to read the flight instruments from.
With steam gauges a quick glance without having to zoom in and out every single time I want some flight Information and I can tell exactly what is happening combined with that touch GTN750 for ease of navigation.
A shout out to the GTN750 team and the plane Developers for incorporating them into your(my) planes, Cheers!
Like i said i'm not buying from some third party website, i'm not going to deal with serial numbers and other drm. Their loss. Carenado will do.
This thread has cheered me up no end. Thanks for bringing me a smile. Enjoy!
From what I read on this forum the Arrows will be added to the in-game marketplace soon.
The delay had partially to do with how discounts and bundles seem to work on the marketplace, so they had to wait for the Turbo Arrow to be released as they'll need to add them together.
Hope you won't have to wait much longer as they are all very enjoyable.
Mooney M20R Ovation: Acceptable but much too expensive. It was still worth it because it was the first decent plane that came out, but since then I haven't flown it once in 6 months.
Just Flight Piper Arrow III: outstanding mod, every single switch in the cockpit is working, great visuals, great sound, great depth, great modding support, regular and meaningful updates. Minus: ground handling/takeoff and landing feels odd, especially with default rudder sensitivity. Though this could be sim related.
He isn't a buyer. This is just another reason for him not to buy. He said it simple - he bought exactly zero of anything. Default is good enough for him.
It is indeed completely inacceptable to copy and paste a serial number one time
I was like that as well and thought I only want to buy from the ingame shop.
No I stay away from it completely. Opinions change.
Must have misunderstood, I was under the impression that he wasn't going to buy outside of the in-sim marketplace, my bad
Yeah, he said that. But he also said he so far bought zero aircraft or airports. Anywhere, including Marketplace. So this is not someone that's gonna spend money on the sim. That's ok and there is nothing wrong with that, because folks should be able to enjoy the sim for what it is, but this is not the clientele most developers cater to. If you think the default aircraft is all you need and "freeware is usually of best quality", that's not exactly a potential buyer. It's not someone who spends money, so their input to the discussion of third party product is usually limited.
The Just Flight Arrow Bundle will come to the marketplace very soon, I think that's all that matters.
Wether people who said they will absolutely never buy from JustFlights store (which is an absolute breeze to use) will buy it from the marketplace, I have my doubts about that too. But it's an additional choice.
A great advantage of the JF store version is that you can use several very nice mods, like the amazing clean cockpit or the nice illumination mod.
But the downside of Marketplace purchase is, that the plane whil be not in the Community folder and modding seems Impossible. Also if you buy it direct from the developer you are sure he gets all the money. Otherwise some share will go to MS, i think
Doesn't seem to have been mentioned yet: Caudron C.430 "Rafale"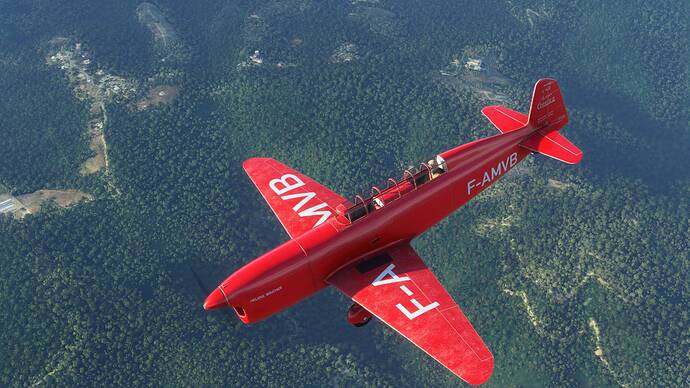 Looks out of proportion from every angle. No radio. No GPS. No autopilot. Hopeless view forwards. If it doesn't kill you on takeoff, that's because it's plotting to do so on landing. And a true pilot's avion for all of that. Wholeheartedly recommended for anyone who enjoys historical aviation, and Gallic eccentricity. C'est Magnifique.
Interesting to see how much money some people spend on this game (assuming the aircraft were not torrented).
I spent about $5K on P3D aircraft and secenery since Jan. Plus whatever MSFS provides in terms of all aircraft and some select scenery. All through official channels.
January THIS YEAR?! Jeez, not judging you at all but, man, that's a lot of money for a game.
Yup. That's the reality. In a way, I regret is because P3D is now in the background for me. But is that gonna change my lifestyle? No.
Money comes and goes so why not spend it on something you enjoy be it a game or something else. Heck, I spent over £3000 on playing cards a couple years ago over the span of around 14 months so who am I to say anything