Would there be any support for Saitek Flight Panels with FS2020?
Upvoted! Keen to hear back from Devs and Logitech G reps about this.
Did they work in the Alpha?
Thanks
Spad.NeXt worked and the free download from Lorby worked for the switch and multi panel. But, I'd like to see native support.
I just spent £140 on a couple of these thinking they would work…For me they are not and I gotta say I am a bit Pi**d off about it
Hi, yes it would be nice if native but for now i found an easy solution in the beta forum, i downloaded a free app called "axis and oh's" kby lorby, just run it in the background and tick enable saitek and then they work as should, hope this helps.
Uncertain about the rules with links etc so you would have to search it
Thanks matey.
I'll deffo give that a go.
Lorby has pulled this app - because he's seen how he can make a quick buck - gotta love Capitalism /s - and so there is no free way to get these to work. I've been bugging this in the Alpha and Beta and no one from the dev team responded, and all I got was 'go get Lorby's AxisAndOhs' = which since this release he's now pulled.
There IS however a free utility called 'DCSFlightPanels' which you can find on GitHub - Whilst it's mainly for DCS, it does allow you to map most of the buttons, knobs, switches and levers to be keystrokes.
So no, the radio panel won't work properly, but the switch panel and autopilot panel will mostly work. YMMV
Yea, I could only find a 20 minute demo…OK, least I have summat else I can try, thanks for that.
So, they are aware they don't work but have ignored you since the Alpha days. Terrible!
At the price this sim is and how popular these panels are support for it should be in there by default.
Devs, can we have an answer. If you're not adding support and I can't get them working I have only a small window to return them.
You can also throw whatever money 'Lorby' asks for, for his app. That way you can keep them. I'd make ■■■■ sure though first that ALL the functionality is there in this 20min demo he's now got.
Ugh. This is a kick in the baws. I don't want to pay for functionality that should already be in the game…
Oh snap! I too am a dumb dumb. I just bought the radio and autopilot ones, ignorantly assuming they would be compatible.
How did Logitech not lobby MS hard to make their expensive controllers native? They're set to sell out whatever stock they have once people are done vacuuming the market for yokes and throttles.
Oh well. As big as this is getting it's bound to get native support sooner or later
EDIT: VICTORYYYYYYYYY
Hello reader of posts! I have travelled back in time to give you this important information from far into the future and down this thread.
Official drivers available here:
They're all the same file, så you only need to download it once, if you have additional products.
Be sure to start MSFS first and then use the Logitech driver shortcut on your desktop to get it to work. Allegedly this won't be necessary the next time MSFS is updated.
Here's a list of third party software
Don't buy anything until you've tried the demo first!
Gents,
I think we're entitled to an answer at least. Can we get folks to bump this one every day until we get some kinda response.
This is almost a refund level oversight… Saitek/logitech is like the most popular gear. It literally works with zero config in xplane.
The cessna yoke and pedals are not recognized either and you have to set up all the controls through the UI which is painful to use.
Microsoft I expect these to just work…
Switch panel
Radio Panel
Cessna pro yoke
Cessna pro pedals
Cessna trim wheel
This sucks too hear
during the alpha I got the autopilot/panels too enthusiastically came here and when I realised it wasn't supported yet and that was an easy solution being only an alpha, just uninstalled the beta and waiting for steam version in my time zone, I'll be gutted if can no longer use them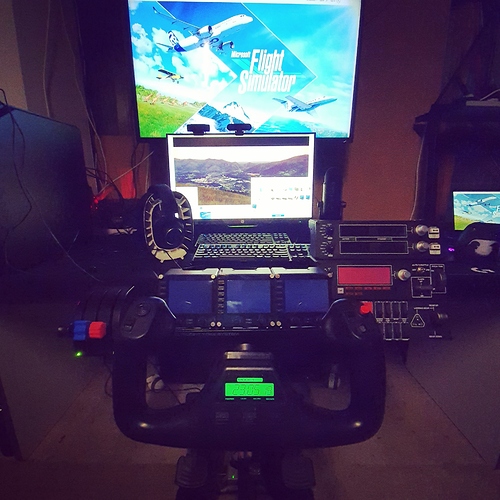 Yeap all that money sitting there. I am waiting for a patch. If anyone wants to give some advice on the freeware/payware add-ons for MSFS, to get this working. Be good to get some information from the devs, to say yes we are working on it. There has been no confirmation at all about these add-ons.
Anyone have any luck with CH Yoke? I mapped manually but the control surfaces on the aircraft don't move
These panels really really need to get support. Most civil simmers will have at least one of these Saitek products and it's a massive oversight not to support them out of the box tbh.
Great sim though!
One of the most popular additions to any setup you would think that Microsoft would think about these peripherals when creating the sim.
surely it's a logitech/saitek issue?
I really don't think Logitech cares about this hardware. They have really done anything with it since buying Saitek. Like fixing the windows 10 usb power issues. The plug-ins haven't been updated 2018.