Some of you may know me from the three Canadian airports I made, but now I want to share a motion simulator project I just completed. I recently became interested adding some motion to VR, but I quickly learned that commercially available rigs are very expensive, so entry cost is too high, and there is no motion compensation solution that works well with WMR OpenXR (Reverb G2), rendering some solutions unsuitable. So that was disappointing. Then I learned that people are building those rigs themselves. I read about that and I was hooked. Research followed, parts were ordered, and soon I started building.
When I finished the initial tuning and tried it in VR on my HP Reverb G2 for the first time, I was speechless. The result surpassed my expectation. Similar to switching to VR, this is another moment of
OH MY GOD!!! This is what VR is meant to be. I can never go back now.
This is what I wanted, the project is so worth a few days' work invested in it and more. I can never go back from VR+motion for flight simulation now, that's official! The level of realism and immersion is like going from pancake to VR again.
Now that this rig is completed (for now at least), here's a detailed video with the flight demo, hardware and software walkthrough. Watch the beginning if you are interested in the concept, and all the details follow the demo, for those interested.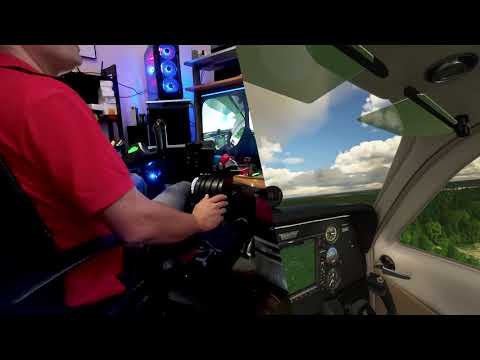 Two 12V motors: 180 WATTS (.24 HP), 50:1 gear ratio, 60NM torque
Arduino Uno R3 with customized SMC3 firmware
IBT2 motor drivers
FlyPT Mover software (free)
DIY vibration transducers connected to SimShaker for Aviators (free) + Sound Module (paid)
HP 750W power supply
Modded Saitek/Logitech yoke
Custom 3D-printed VR dual encoder control box with trim wheel
Reverb G2 WMR HMD
Construction is mostly wood, with DIY universal joint made of 4 pillow block bearings
Repurposed office chair - in addition to being free, it's actually closer to real GA and commercial aircraft chairs than most gaming/racing chairs which are modeled after car racing seats.
Designed with a possibility to add another motor for yaw/traction loss in future development
Here's a summary:
Pancake: you are looking at a plane that you are flying. Fully disconnected.
VR: you ARE INSIDE the plane that you are flying. (waiting for VR controller support to actually INTERACT with the plane you are flying in 3D, instead of clicking a 2D control representation with a mouse).
Motion rig + VR you ARE INSIDE and FEEL LIKE YOU'RE INSIDE the airplane.
It really affected the way I fly - much more like in real airplane I avoided sudden control movements, steep turns and hard landings (other than for testing) and tried to fly smooth, so I won't be jerked around. It got my flying much closer to realistic instantly. The difference is between knowing you shouldn't make sudden movements but not feeling anything when you do, and actually feeling everything you do with your controls. And a hard landing would really kick your butt hard!
It's just 2DOF, but this is another level of immersion. This is amazing, I was grinning and laughing during my first test flight. When I stopped after a hard emergency landing, I just started laughing for a minute like an idiot, and couldn't stop.