Enjoy my 2nd Aircraft. Please at it to the list.
EA-7 Edgley Optica | Aerosoar | Freeware:
Very interesting aircraft, had to look that one up to make sure it was real. Haven't had a chance to try it out yet but have downloaded it and added it to the list. Thanks!
Here are two powerfull members of the short take-off and landing capable Skyhawk built on a Lycoming 210HP STC family :
They are 3d model & flight model patches over Asobo C172 G1000 and add new planes to your hangar
I have wondered the same thing about having to move everything out of the community folder every time msfs updates. So far, all mods have worked by simply copying the zipped folders into the community folder. Which is not easy to dig down to, by the way.
Just rename your folder … takes eeeeeeeh 3 secconds and if you want create an empty one ( another 5 secs )
Or use a mod manager … one click to "remove " mods
You don't even need to create the empty one, MSFS will do that when you start it.
I use one of the mod managers, that only move the mods that you want to use in the next flight into the community folder when you want them there. Saves on load time, too. There are a couple of good ones over at flightsim.to
Useful tips re. mod managers/community folder.
However, lets get back to keeping this thread as a catalogue of aircraft mods rather than any discussion surrounding such mods or how to effectively use them. Other threads can be created and/ or used for questions/hints/tips for such matters.
Thanks all!
Here's a new mod over the skyhawk g1000 & classic from asobo :
happy flying & swiming
For the C208, since Sim Update 4, the active mod is now this one:
Up-to-date info here:
FYI: The mod for the C208, mentioned above, is now also on flightsim.to:
Please come download and try out the new freeware Lockheed Martin F-22A Raptor from Top Mach Studios at flightsim.to. More than 9 months of research development work has been invested by the team to bring the community this fly-by-wire enabled high performance supersonic air dominance fighter.
Added Mario and Luigi's Kart for fun
More info at Mario Kart – FLIGHTSIM SQUADRON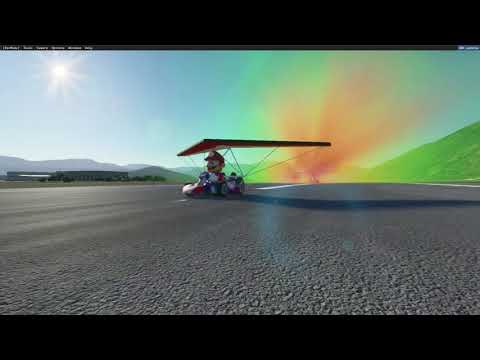 Please note that there is now a separate pinned topic that catalogues aircraft that are freeware/payware and available for MSFS.
This thread should be used for submitting new mods to existing MSFS aircraft.
New aircraft should be recommended in the following thread:
I took down my github repo for the F22 Raptor when we rebranded to Top Mach Studios. The link you have posted for my github is now broken and can be removed since you already have the correct link to flightsim.to. Thanks!