Current build: 1.20.6.0
For those of you who chose to sign up for Sim Update 6 testing, the flight (1.20.5.0) is now available for download in the Xbox Insider Hub. You may now download the build and provide feedback to our team. Thank you for your time and effort in helping to improve Microsoft Flight Simulator!
Release Notes: Sim Update 6 Flight Live: Come Here for Updates! - #2 by Jummivana. Please remember that this flight is full, and that reporting will not be done through the forums. To report feedback, see below.
Expected behavior for Installing the SU6 flight:
Confirm you are in the Preview. Open the Xbox Insider Hub app. If you are in, you should be able to see a screen like this: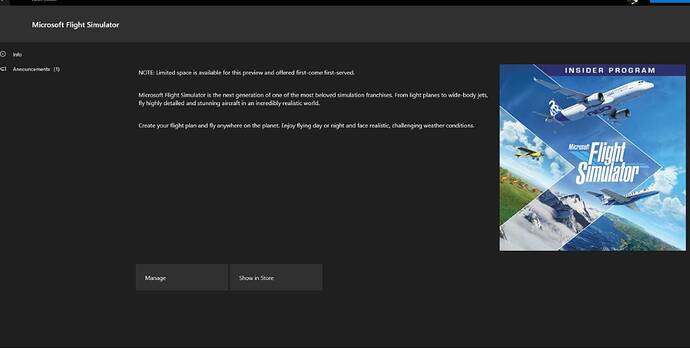 Click "Show in Store" to take you to this page in the Microsoft Store:
Update should be automatic but if not, you can click on the three dots in the upper right corner to trigger. Please restart your PC, launch the 'Xbox' App, or sign out and back in if you do not receive the update.
When you download the build, you may have to reinstall the whole sim if you do not have your core files saved on a custom path. This is expected and a part of the test.
Be sure you are logged in with your flight associated GamerTag
For the category select "Apps" and then "Flight Simulator" or "Microsoft Flight Simulator"
If the bundle is not installed, you may need to manually install the "Report a Problem" app if you are not seeing the "Report a Problem" button when pressing and holding guide.
Select Category "Games" and Sub-Category "Microsoft Flight Simulator"
This flight is under NDA. Please review the NDA & Guidelines here. Do not post about your experience outside of the above reporting methods.
Known Issues
The NXi by Working Title is not compatible but will be updated when SU6 comes out