Thank you for your comments over the last 7 days with the recent Sim Update 5 release. We have seen and read from the core simming community and recognize there is some feedback that needs to be addressed. We have spent the past several days looking over it, reviewing, exploring the details and immediately started working on fixes.
As a result, a hotfix is coming in the next few days (target is Friday but could move to Monday) to address some of the issues as soon as possible. Here is a summary of the hottest topics we have seen in the forums.
Volumetric Lighting is Missing – This was a shader bug and will be addressed in the upcoming hotfix.

LOD Popping and Stutter when Camera Panning – PC Simmers with graphics set to Ultra will experience this when panning the camera around very quickly. We are working on a new option that will allow you to customize how much off-screen scenery will be cached. We are aiming for this to be released on August 24th (World Update 6).

Low Resolution Ground Texture – This is a bug introduced when we fixed tree draw distance from high latitudes and will be addressed in the upcoming hotfix.
Preview of Ground Texture/LOD in the Hotfix
View from above 30,000 feet: Detail level will increase to an even higher level than Sim Update 4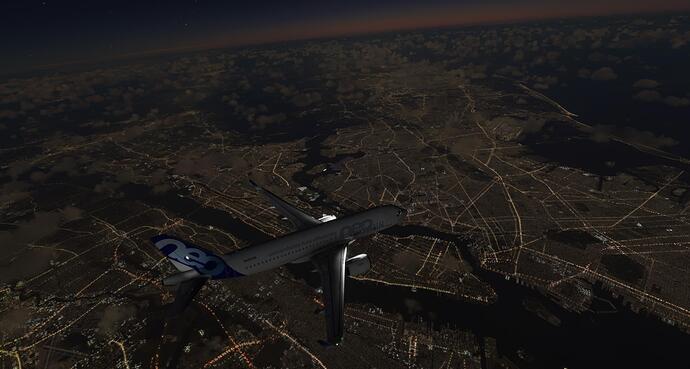 View from above 30,000 feet: The same fix also improves the night lighting draw distance
View from above 60,000 feet: You can still see the photogrammetry of Seattle. The terrain level of detail is more than 1 terrain pixel per 4K screen pixel.
CTDs – We are currently investigating and are planning on several fixes for World Update 6.

Washed out Graphics and Cloud Appearance – Attempted improvements to the cloud appearance introduced an overexposure of the world. This will be addressed in the upcoming hotfix. We are planning on a brightness slider for an upcoming Sim Update to allow visual customization of your sim.

Aerosoft CRJ – We have found and fixed a bug in an open-source math library that is part of Web Assembly [wasi-libc] which was part of the CRJ and has been resolved. A new package will be made available in the next few days.

ATC Incorrect Altitude – The pressure altitude has been brought in line with the new altimeter simulation and ATC should no longer ask you to get to your current altitude if you're already there. This is addressed in the hotfix. Further improvements to the altimeter and ambient pressure system will be coming in World Update 6.

Temperature Spikes – The previous hotfix did not fix all cases of the issue. This is being addressed in the upcoming hotfix.
This is not an exhaustive list - we are investigating all the issues that have been communicated and we will give updates in the Feedback Snapshot on August 12. We acknowledge and apologize for the gap in our communication. Thank you again for your continued support and patience!
If you would like to leave feedback or comments about this post - click here.